Plaster Caster And Ghost Dance At National Arts Festival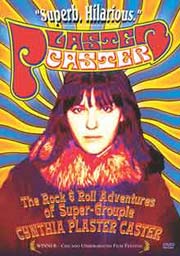 The National Arts Festival is a celebration of the multidisciplinary arts held in Grahamstown, South Africa. This year, it is running from June 30 to July 10 and features dance performances, stage plays and musicals, stand-up comedy, art exhibitions, music concerts, and a film festival.
In keeping with the arts theme, the NAF is screening an excellent documentary about a very unconventional American artist as part of the film festival. It is Plaster Caster, which profiles legendary Chicago- based super-groupie Cynthia Plaster.
Plaster Caster screens on Tuesday, July 5 at 3:00 p.m.
A huge hit on the international film festival circuit in 2001-2002, Plaster Caster was subsequently released on DVD all over the world. (Amazon). Filmmaker Jessica Everleth (née Villines) tracks the artistic career of Cynthia Plaster Caster, the rock groupie who has famously made plaster sculptures of the private parts of some of the biggest names in music, most notably, Jimi Hendrix.
Still practicing her craft, in the documentary Cynthia wrangles two indie musicians, the reticent Bill Dolan and the raucous Danny Doll Rod, into posing for two new sculptures all the while preparing for the first big gallery showing of her career in NYC. The film is an engaging and fascinating portrait of an artist who finally gets the art world respect she's always deserved. Read the Underground Film Journal's review of the film here.
Watch the trailer for Plaster Caster: