Outrageous! Window Water Baby Moving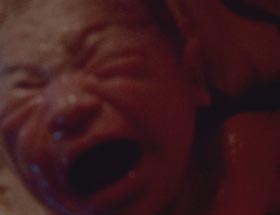 This is the 4th post in a series covering the most outrageous moments in underground film history. You can follow the entire series here.
Film: Window Water Baby Moving
Director: Stan Brakhage
Year: 1959
Today, having an excited father-to-be stand in the delivery room with a camera in hand to record the momentous occasion of his child being born is a commonplace concept. In 1958 … not so much.
Underground filmmaker Stan Brakhage desperately wanted to film his wife Jane give birth to their first daughter, Myrrena. In an article written later for the magazine Film Culture, Jane explained that she and Stan had found a doctor who was enthusiastic about the prospect of the birth being recorded on 16mm film. In fact, the doctor suggested it to them first before they could spring the idea on him!
But, the hospital absolutely refused to allow the proud, film-crazy papa in because men just weren't supposed to do that kind of thing. Not to worry, though. Jane was happier with the idea of having a natural childbirth at home anyway; and sometime in mid-Nov. 1958, she went into labor.
The doctor rushed to the Brakhage home and, upon his arrival, Stan — with a camera in one hand — helped his wife onto the delivery table and filmed the entire process. And Stan wasn't shy at all about using that camera. The film includes intense, graphic closeups of the baby literally popping out of Jane; with the placenta doing the same.
The finished film, Window Water Baby Moving, caused a bit of a scandal at the time. Fellow underground filmmaker Maya Deren called the film "a blasphemy" because it recorded something a man should never see. But what was once scandalous and outrageous is now an accepted practice — depending on the squeamishness of the individual father.
Even mainstream films show births these days. In Knocked Up, director Judd Apatow includes a scene of Jay Baruchel being grossed out by a shot of a baby popping out of Katherine Heigl. For that, we can thank Stan Brakhage.
Window Water Baby Moving is included on the DVD By Brakhage: Amazon