Outrageous! The Beaver Trilogy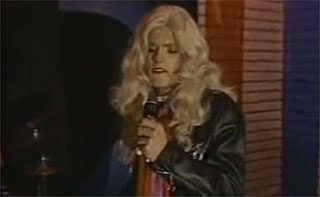 This is the 10th post in a series covering the most outrageous moments in underground film history. You can follow the entire series here.
Film: The Beaver Trilogy
Director: Trent Harris
Year: 1979-2000
A chance meeting in the parking lot of a Salt Lake City, Utah, news station resulted in an enormously beloved — and outrageous — underground film.
Filmmaker Trent Harris was working as a news cameraman in 1979 and testing out some new gear when he met an affable young man known only as "Groovin' Gary."
After a few minutes of chatting on camera, Groovin' Gary launches into several celebrity impersonations, such as John Wayne and Sylvester Stallone, and invites Harris to visit Gary's hometown of Beaver to videotape its allegedly talented residents.
Off-screen, Gary arranges for a talent show at the Beaver high school for Trent to videotape for a possible TV special — with Groovin' Gary as the special's main star, of course.
Although The Beaver Trilogy includes a long and extensive scene of Gary getting made up and dressed for the talent show — at a funeral home, no less — when he finally walks out on stage as "Olivia Newton-Don," singing an emotional rendition of the ballad "Please Don't Keep Me Waiting," it's a spectacularly outrageous payoff.
And, perhaps, it was a bit too outrageous for the small town folks of Beaver in 1979. Apparently, the conservative residents were so appalled at the site of their cross-dressing neighbor and gave Gary such a hard time about it that Gary had Trent return at a later date to film a "manly" interpretation of Barry Manilow's "New York City Rhythm" for the non-existent TV special.
Harris would go on and make fictional versions of his adventures with Groovin' Gary — one a botched attempt with Sean Penn, who had to bail to go film Fast Times at Ridgemont High, and the other a complete short film starring Crispin Glover called The Orkly Kid — then package the whole thing as The Beaver Trilogy, which he sells on DVD at his official website.
But, if you just want to watch the documentary footage of Groovin' Gary and Olivia Newton-Don, you can view that here.
P.S. Sadly, Groovin' Gary, whose real name was Richard LaVon Griffiths, passed away at the age of 50 on February 2, 2009.