Outrageous Short Film: The Rambler
On the one hand, Calvin Lee Reeder's The Rambler is probably best viewed really not knowing much about it beforehand. It starts out as a genial, if a bit strange, hitchhiking movie starring Reeder as the title character who gets picked up by a mad scientist (Philip D. Clarke) transporting a pair of mummies. Ok, that's fine. But, it's when the two travelers return to the scientist's home when things go to hell. Suffice it to say, this film is NSFW — but not for the traditional reasons — not appropriate for children and not to be viewed during mealtime. You have been warned.
Well, even with the warning, what Reeder pulls off is so completely unexpected there's really no preparation for it anyway. What appears to be an off-kilter homage to cheesy '70s B-movies descends into Lloyd Kaufman-esque over-the-top territory. Although, it can't be said that the film changes or switches style. Reeder keeps a logical progression in tone and style, even as the film moves from remote, overcast outdoor locations to very unnaturally lit indoor spaces.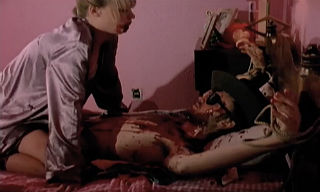 The acting across the board is uniformly strange, too. Reeder's Rambler is a bit of a cipher, reacting nonchalantly even as oddball events unfold in front of and on top of him. So, when the movie starts going into its darkest places, the audience is set-up to react to them in a blasé fashion like the Rambler, up until the point when it's impossible to do so. That's when there's an emotional break with the audience, when we can no longer identify with the title character. The emotional disconnection that occurs along with the pure visual vileness of the film's most outrageous moment is a polarizing event on all levels.
The film also stars frequent Reeder collaborator, actress Lindsay Pulsipher, who has appeared in nearly all of the director's films. (It helps that they're also a couple in real life.) Although Pulsipher is playing more of a caricature than a real character and has very few scenes — despite how memorable one of those scenes is — it's still a pretty grounded performance. In addition to working with Reeder, Pulsipher is a very busy Hollywood character actress, appearing in several TV shows such as The Beast, CSI, NCIS and having a recurring role on HBO's True Blood.
Reeder and Pulsipher's latest collaboration is the feature film The Oregonian, which recently debuted at the 2011 Sundance Film Festival.