Outrageous! Scorpio Rising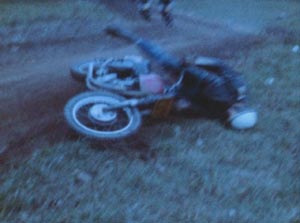 This is the 2nd post in a series covering the most outrageous moments in underground film history. You can follow the entire series here.
Film: Scorpio Rising
Director: Kenneth Anger
Year: 1964
Did Kenneth Anger unintentionally make the first underground snuff film in 1964? Anger filmed a motorcycle race for his most famous film, Scorpio Rising, and captured one poor guy whose bike veered out of control and crashed on the side of the track. Although the dude is seen wearing a helmet, his head smacks the ground at a very unnatural angle.
Although it's not clear in the film itself that anything unduly tragic has happened, on the commentary track Anger did for Fantoma's 2-volume DVD retrospective of his work, the filmmaker says:
I'm sorry the fellow was killed, but it wasn't like I tripped him. It was a freak accident and he did die. I photographed him when he's dead.
Yes, the accident killed this poor fellow and not only did Anger film the accident, but he took a couple shots of him post mortem.
However, according to the documentary Snuff: A Documentary About Killing on Camera, an actual "snuff film" is one in which a person is intentionally killed for the sole purpose of selling the film. Clearly, Anger is just an innocent bystander who happened to catch this tragedy with his camera, and his economic aspirations — creating a short, abstract narrative film — were low to non-existent. Therefore, Scorpio Rising can't be considered a "snuff" film. Just a film that includes an actual terrible death.