Outrageous! Reflections of Evil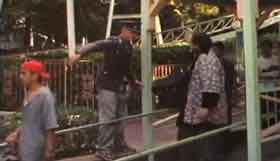 This is the 9th post in a series covering the most outrageous moments in underground film history. You can follow the entire series here.
Film: Reflections of Evil
Director: Damon Packard
Year: 2002
With usually very little money to work with, underground filmmakers have to come up with ingenious ideas to bring their grand visions to life on the cheap. In that regard, perhaps it was Damon Packard who pulled off the underground film world's most daring stunt.
Packard's 2002 film Reflections of Evil is an epic-sized deconstruction and commentary on the world of pop culture, featuring a mish-mash of '70s ABC TV Movies of the Week, Steven Spielberg adoration, California cults, junk food addiction and more.
To create a nightmare world of existence spiraling out of control in the modern age, Packard filmed several extensive sequences at various Los Angeles area amusement parks, most notably the world-famous Universal Studios.
While the park is filled with attractions that are themed after movies produced and released by Universal Pictures, Packard decided that one Universal film was conspicuously missing from having a ride created after it:
Schindler's List.
To fill the void, Packard decided to create his very own "Schindler's List: The Ride." But, how does one create a Holocaust-themed amusement park ride with no money and no support from Universal?
Packard just had several actors dress up in Nazi-like uniforms and stood them outside the exit of a traditional ride. There, with faux German accents, the actors yelled at the bewildered park guests, herding them like cattle through the turnstiles.
All Packard had to do was capture a few shots of his fake Nazis before park officials shooed them away.
Since none of Packard's films have received proper distribution — the licensing rights alone would scare away any distributor — he tends to upload his feature-length movies himself to YouTube, but in 10-minute chunks, a time-limit restriction dictated by the video sharing site.