Outrageous! Pink Flamingos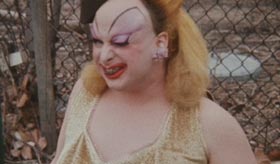 This is the 5th post in a series covering the most outrageous moments in underground film history. You can follow the entire series here.
Film: Pink Flamingos
Director: John Waters
Year: 1972
On the one hand, choosing only one moment in Pink Flamingos as a "most outrageous" moment is like trying to pick out the most offensive grain of sand on the beach. But, on the other hand, it's almost mandatory to zero in on the film's coup de grace ending.
Pink Flamingos is so overall offensive that it should have been arrested for assault and battery on audiences when it was released to theaters back in 1972. It only got away with its crimes against humanity as it snuck in through the alley and only played on the midnight movie circuit. That was the only time of the day when an audience could actually stomach it.
Flash forward nearly 40 years later and the film is still a grotesque, never-to-be-matched masterpiece of puerile art no matter how many imitators and wanna-be's still come along. That's because the offensiveness is put on display with such a totally engaging good-natured cheerfulness that it's all absolutely hilarious.
From the egg-eating lady who sits in a crib to turkey necks dangling from male appendages to the homemade artificial insemination to the chicken-slaughtering erotica, Pink Flamingos is a non-stop catalog of depravity.
But nothing — absolutely nothing — tops the final scene where the star of the film, the plus-sized drag queen Divine, hungrily snaps up a fresh pile of dog excrement off the pavement, shoves it into her mouth and gives the camera a big, literal shit-eating grin.
This is not CGI. This is not a special effect. John Waters actually convinced a 300-pound transvestite to eat dog poop. According to Waters in his autobiography Shock Value, Divine actually never balked at the outrageous request. However, afterward, fearing she might get ill, Divine called a local hospital and claimed her "retarded son" had accidentally ingested feces. Although a nurse said "the son" could get worms, Divine never suffered any ill effects.