Outrageous! Heavy Metal Parking Lot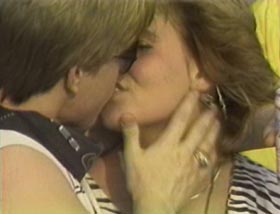 This is the 3rd post in a series covering the most outrageous moments in underground film history. You can follow the entire series here.
Film: Heavy Metal Parking Lot
Director: John Heyn and Jeff Krulik
Year: 1986
On May 31, 1986, filmmaker John Heyn and public access station manager Jeff Krulik grabbed a video camera and drove to the Capital Centre in Landover, Maryland to interview fans of the heavy metal rock group Judas Priest tailgating in the parking lot before a concert. The result became the beloved cult classic Heavy Metal Parking Lot, aka HMPL.
What Heyn and Krulik managed to capture was all sorts of inebriated and otherwise chemically imbalanced carousing and partying. While the documentary is filled with all sorts of memorable characters and stories — from Zebraman to the friends of Timmy — the most outrageous action caught on video is when 20-year-old Air Force recruit Dave Helvey starts making out with a 13-year-old girl, Dawn.
To be fair, 17 years later, Heyn and Krulik caught up with Dave and interviewed him again for a short HMPL alumni documentary. Dave, who's still very much into heavy metal and plays in a garage band, says that Dawn was — and continues to be — just a friend and was never his girlfriend. Most likely, that kiss was just something outrageous to do for the camera, but it's still a little awkwardly uncomfortable moment.