Outrageous! Empire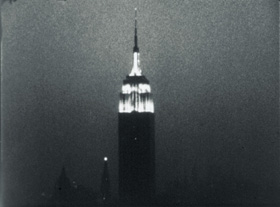 This is the 6th post in a series covering the most outrageous moments in underground film history. You can follow the entire series here.
Film: Empire
Director: Andy Warhol
Year: 1964
During his entire filmmaking career, artist Andy Warhol filmed lots of outrageous stuff. With films with titles like Lonesome Cowboys, Nude Restaurant, Mario Banana, Suicide, Bitch — and worse! — it was clear Warhol liked to shock, enrage and embarrass his audiences.
However, the most outrageous thing Warhol ever filmed? The Empire State Building. One shot. For six hours straight. Well, Warhol filmed the topmost portion of the then world's tallest building for six hours, but when projected he slowed the film down so that he expected audiences to watch a single, static shot for over eight hours.
According to Warhol assistant Gerard Malanga in the Victor Bockris biography The Life and Death of Andy Warhol, filmmaker John Palmer came up with the concept for Empire. Then, on the night of July 25, Warhol, Malanga, Palmer, filmmaker Jonas Mekas, art curator Henry Geldzahler and a "Marie Desert" (perhaps a pseudonym for filmmaker Marie Menken?), gathered on the 41st floor of the Time/Life Building across the street, plunked down a 16mm film camera aimed at the Empire State Building and shot continuously for six hours.
Mekas is credited with working the camera for the entire shoot and changing the film reels with help from Malanga. Initially, Warhol wanted Empire to have a soundtrack, so he instigated conversation with the participants gathered in the room that was recorded on audiotape. However, Warhol eventually changed his mind and decided to release Empire as a silent film.
Part of that conversation, though, was transcribed in Mekas' July 30, 1964 Movie Journal column in the newspaper the Village Voice, which reveals that Warhol conceived of Empire as being a "dirty movie" after all:
Andy: An eight-hour hard-on!
Gerard: We have to maintain our cool at all times.
John: We have to have this film licensed.
Andy: It looks very phallic.
Jonas: I don't think it will pass.