Oscar Doc Shortlist: Battle For Brooklyn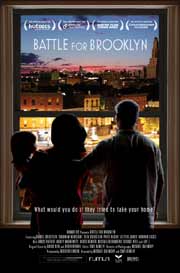 The Underground Film Journal offers special congratulations to filmmakers Michael Galinsky and Suki Hawley for their epic documentary Battle for Brooklyn making the Oscar shortlist for Best Documentary.
Out of 124 eligible films this year, Battle for Brooklyn was one of only 15 films chosen for the list by the Academy of Motion Picture Arts and Sciences Documentary Branch Screening Committee. Up next for the Academy is to pick five docs out of the 15 to become this year's official nominees.
Battle for Brooklyn was produced over the course of about seven years as the residents of Prospect Heights fight both city hall and an aggressive real estate developer, Forest City Ratner, to prevent the demolition of their neighborhood for a sports complex.
The true hero of the film is Daniel Goldstein, a graphic designer, who becomes a full-time activist to save his home. We become intimately involved in Daniel's struggle as his personal life is at first ruined by his commitment to his activism and then completely re-energized. What emerges is a triumph of the heart and spirit, even when the political triumphs are few and far between and mostly nonexistent.
The Underground Film Journal reviewed Battle for Brooklyn earlier in the year, calling it a "great political thriller." But, more importantly:
Seven years is a long time to spend on one project, but Hawley and Galinsky being involved since the beginning of the controversy gives their film a truly epic scope. Had they gotten involved later, Battle for Brooklyn may well have been a dry recitation of facts. However, the film they do have puts us right in the middle of action as it's happening. Daniel is not just a talking head. He is a human being whom we become connected with.
We here at the Underground Film Journal are keeping our fingers crossed extra tightly that this amazing film goes on to become an official nominee and — dare we say it — actually win! It deserves it.
The full list of 15 documentaries on the Oscar shortlist are below, in alphabetical order:
Battle for Brooklyn (RUMUR Inc.)
Bill Cunningham New York (First Thought Films)
Buck (Cedar Creek Productions)
Hell and Back Again (Roast Beef Productions Limited)
If a Tree Falls: A Story of the Earth Liberation Front (Marshall Curry Productions, LLC)
Jane's Journey (NEOS Film GmbH & Co. KG)
The Loving Story (Augusta Films)
Paradise Lost 3: Purgatory (@radical.media)
Pina (Neue Road Movies GmbH)
Project Nim (Red Box Films)
Semper Fi: Always Faithful (Tied to the Tracks Films, Inc.)
Sing Your Song (S2BN Belafonte Productions, LLC)
Undefeated (Spitfire Pictures)
Under Fire: Journalists in Combat (JUF Pictures, Inc.)
We Were Here (Weissman Projects, LLC).