Optic Nerve #10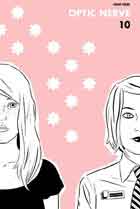 On the one hand, I don't understand writing a continuing story when an issue of your book comes out once every year or more. But on the other hand, Adrian Tomine's one-off stories are such little snippits of his characters' lives they almost feel like they're a smaller part of a bigger tale that should be told. So, in reality, even though I don't remember when I bought Optic Nerve #9 or exactly what happened in it, that didn't affect my enjoyment of this middle chapter of a three-part tale.
The other thing I wonder about is this storyline autobiographical, a personal sex fantasy or just pure fiction totally unrelated to Adrian's life. It's revealed in this chapter that main character Ben Tanaka suffers from nut allergies, which Adrian wrote about suffering from in his 32 Stories collection. The allergy doesn't play any role in this story, so why include it? The rest of the book is about Ben, a nerdy Asian guy, torn between two blonde-haired, blue-eyed Caucasian chicks. Meanwhile, the person he should really be dating is his best friend Alice, who is also Asian, but also unfortunately a dyke.
Finally, I suppose the issue ends on a bit of a cliffhanger where we're supposed to ponder Ben's reaction to a fateful decision. Honestly, his immediate reaction I could care less about. I sort of hope Optic Nerve #11 picks up two or three years after the events of issue #10. I'd rather see how–or even if–Ben has evolved from his current situation rather than see him muddle through this kind of sad life he has.