One+One & London Underground Issue Filmmaking Challenge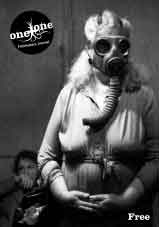 One+One: The Filmmakers Journal and the London Underground Film Festival have jointly issued a filmmaking challenge. They are looking for short films that deal with the theme of "Revolutions in Progress." Both One+One and LUFF will then pick their favorite 8 films to be shown at the 2nd annual edition of the fest in December. Guidelines can be found here.
Filmmakers who take up the challenge will upload their films to YouTube and have to follow four simple production rules:
The film is to be both a mix of drama and documentary – in homage to the great "revolution" film Sympathy for the Devil / One plus One.
At least 50% of the film's dialogue/voice over (if any) must be quoted from somewhere else.
Copyrighted music can be used, yet filmmakers risk having their videos removed from YouTube.
Maximum of 10 minutes.
Films must also be named "One+One Revolutions in Progress: YOUR FILM TITLE" when they're uploaded to YouTube where they'll then be collected into a special YouTube channel and website.
The deadline for submissions is: Nov. 1, 2011.
With the spirit of revolution these days — from the very real revolutions happening in the Middle East to the technological revolutions happening on the Internet — One+One and LUFF are interested in inspiring artists to "envisage a culture for the future and a way of resisting and struggling against current modes of domination."
One+One: The Filmmakers Journal is a free online and print publication founded by Brighton-based filmmakers and writers Daniel Fawcett, Bradley Tuck and James Marcus Tucker. The zine features articles about all aspects of film history — both mainstream and underground — from a filmmaking perspective. They are always open for submissions.
The London Underground Film Festival held its first successful edition last year on Dec. 4-10 at the Horse Hospital. They are currently open to other kinds of film submissions for their second annual event. While dates have not been set yet for it, the deadline is July 1. There are no submission fees. Please visit the LUFF website for more info.