One+One: Filmmakers Journal: Looking For Writers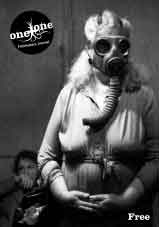 One+One Filmmakers Journal, an online and print non-profit publication, is looking for submissions for their upcoming 6th edition, which will be published in early 2011. Devoted to the celebration of filmmaking, they are looking for a wide range of articles that provide a "thorough and critical analysis of filmmaking and its social and cultural effects and implications." The deadline for articles is February 1, 2011. Submit here. (As a non-profit publication, there's no compensation for articles.)
One+One actually shares some goals with the Underground Film Journal, particularly in the way they like to combine both an intellectual and a populist approach to analyzing films and film history. They are looking for articles that conceptually have an academic curiosity towards filmmaking, but are written so that they can be enjoyed by all types of film lovers from serious scholars to casual fans.
Articles can also employ a range of styles from autobiographical to journalistic to historical to philosophical to socio-political to anything in between. Your article can also either be a straight-up research piece, an interview or a manifesto. However, submissions should, to some degree, reflect upon the act of filmmaking itself and cover at least one of the following topics:
• Critical examinations of filmmaking; its craft, process or social context. This may concern either independent self-financed filmmaking or the film industry and film-funding
• Social issues in films
• Film as part of a "Revolutions in Progress"
• Underrated or under-acknowledged filmmakers or acknowledged filmmakers who have radically and experimentally broken boundaries in some way.
To get a good idea of what One+One is really looking for, it's a good idea to browse through their website and read what they've published previously. For example, in issue #5, they published Clara Pais' analysis of the methodology and approach to filmmaking of Stan Brakhage; Bradley Tuck's interview with filmmakers Greg Scorzo and Liz Soden; Melanie Hay's analysis of the film Bad Boy Bubby by Rolf de Heer; and more. Plus, you can find their previous issues in their archive.
Once again, the final deadline for articles is Feb. 1, 2001. Articles should be around 3,000 words, but that can be negotiable. Plus, a 300-word proposal should be submitted beforehand. For full guidelines, please visit their submissions page.