On VOD: Daniel Martinico's Ok, Good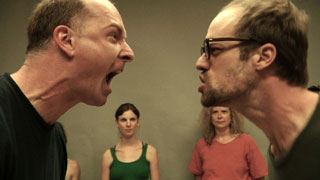 Get an up close and personal — and completely intense — look at the Los Angeles audition process in filmmaker Daniel Martinico's debut feature film Ok, Good. The film is available for streaming starting today on Amazon.
The film stars real-life actor Hugo Armstrong as on-screen actor Paul Kaplan, who haplessly trudges from one demoralizing TV commercial audition to the next, all the while letting an inner-rage boil inside him until it's set to explode. Both Armstrong and Martinico collaborated on the script.
Ok, Good made its debut at the 2012 Slamdance Film Festival and is now being released on VOD by Slamdance's partnership with the company Cinedigm. Over the past year and a half, the film has also screened at the Chicago Underground Film Festival, the Minneapolis Underground Film Festival and many other fests.
While this is Martinico's debut feature, he has previously directed numerous acclaimed short films, such as the incredibly awesome Bike Thief, which was another collaboration with Armstrong, and the re-worked Star Trek footage piece, Khan. To learn more about Martinico's films, please visit his official website.
Stream Ok, Good on Amazon and iTunes.
Watch the Ok, Good trailer: