On Tour: Sweethearts of the Prison Rodeo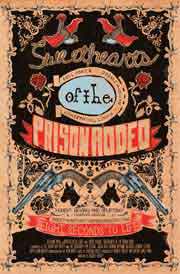 Bradley Beesley's documentary Sweethearts of the Prison Rodeo is going on a cross-country screening tour from September to November and will play at theaters, and — most appropriately — actual prisons! Plus, Beesley will go behind bars several of the correctional facilities to talk with the inmates at post-screening Q&A's.
The film chronicles the 2007 prison rodeo held by the Oklahoma State Penitentiary, an event that was started as an annual tradition back in 1940. In 2006, history was made when, for the first time ever, women were allowed to participate in the rodeo. During Beesley's filming, women were again involved in the rodeo, getting right out onto the field with the men to face down a bunch of angry bulls.
2008 would then be the last year the penitentiary would hold the rodeo. While you might think women would be opposed to possibly be kicked in the face by a wild animal, the participating female inmates loved the experience as it would be one of the few times they could feel free during an adult lifetime spent behind bars.
After screening at the 2009 SXSW and AFI-Discovery Channel Silverdocs Documentary Film Festival, as well as the BFI London, Sweethearts of the Prison Rodeo did air on HBO in the U.S. and on Channel 4 in London.
For this tour, the film will have week-long runs at the IFC Center in NYC and the Alamo Drafthouse in Austin before heading off for one to two night screenings in cities such as Austin, San Francisco, New Orleans, Seattle, Portland, Denver and more.
Below is a confirmed list of screening venues, but new dates will be added to the tour. To find out if it's coming to your town or prison, please visit the official website of the film's distributor Cinema Purgatorio. And for more info on the film, please visit its official site. Plus, watch the trailer below the screening dates.
Sep. 11
Montreal
Blue Sunshine
Sep. 17 — 23
New York City
IFC Center
Sep. 17 — 23
Austin, TX
Alamo Drafthouse
Sept. 24 — 25
New Orleans
Venue TBA
Sept. 27
Private Screening
Las Cruces, NM
New Mexico Correctional Facility
Sept. 28
Tempe, AZ
Madcap Theater
Sept. 30
San Francisco, CA
Red Vic Movie House
Oct. 4
Bellingham, WA
Pickford Cinema
Oct. 5 — 7
Seattle, WA
Northwest Film Forum
Oct. 7
Tulsa, OK
University of Tulsa
Oct. 8
Portland, OR
Hollywood Theatre
Oct. 8 — 14
Denver, CO
Starz Film Center
Nov. 16
Columbia, MO
Ragtag Cinema
Nov. 17
Kansas City, MO
Screenland Crossroads