On iTunes: Saturday Morning Mystery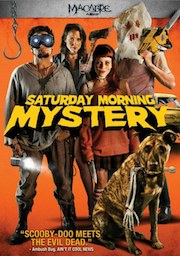 Saturday Morning Mystery, the scare-tastic indie horror flick directed by Spencer Parsons that freaked out audiences on the festival circuit last year, is now available for home frightening on iTunes.
The film follows the exploits of four teenage ghost hunters and their pet dog — hmm, that sounds familiar — as they investigate a haunted mansion. But, this ain't no light-hearted kiddie cartoon romp as the quartet encounter satanic rituals, cannibalism, acid trips and other forms of extreme ickiness. Genuinely scary and filled with great gore, Saturday Morning Mystery is one of the most original and devilishly fun horror movies of the last couple of years.
The official Underground Film Journal review will be up soon, but don't wait for us. Stream/download this fantastically entertaining horror romp today!
(Previously known as Saturday Morning Massacre on the fest circuit.)
Watch the trailer for Saturday Morning Mystery: