On DVD: Scars Of Youth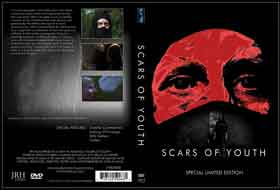 Filmmaker John R. Hand is self-distributing his second feature film, Scars of Youth, as a limited-edition DVD in a handsome "progessive 16×9 video transfer direct from the original 1080p HD master elements along with 448 kbps Dolby Digital 5.1 audio" format. You can buy it from his official website for $15, which includes shipping in the U.S. ($20 international.)
The DVD comes with the original film with a full-length director's commentary, some "making of" footage, a stills gallery and some more goodies. It's an impressive disc. The "making of" footage goes a long way to show just how much of a trooper star Amanda Edington was, allowing herself to be put into numerous icky situations while fully exposed. And while I haven't listened to the entire commentary track by Hand, what I did hear was very interesting. He offers up lots of technical details and explains many of his inspirations, including Russian and European sci-fi flicks.
The official description of the film by Hand is this:
In a post-apocalyptic world 200 years from now, a young man seeks to come to terms with his bleak existance and save his mother from the grips of strange black fluid which prolongs life but has disfiguring physical side effects.
Sounds like a straightforward sci-fi film, hunh? Well, it's not. Here's a bit of what I had to say about the film when I reviewed Scars of Youth a couple months ago:
The sci-fi allusions in the film, however, come across as merely a McGuffin. Everything Paul encounters only encourages him to become more and more withdrawn: Hazmat men torturing innocent civilians, Harold's description of the "outside" world we never see, the bottles of addictive liquid Paul is afraid to drink, et. al. The state of the "checkpoints" don't mean squat. The real plot drive is how Paul resolves his feelings towards his mother.
This is an intriguing and a very beautifully shot experimental sci-fi flick from the always enigmatic Hand. Order now!
Watch the trailer: