On DVD: Broken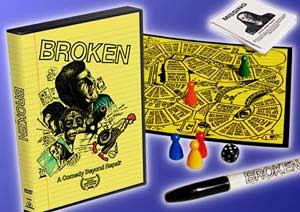 If they gave out Oscars for most original DVD "bonus" feature, Jay Hollinsworth would surely win one for his self-released Broken. I reviewed this film way back when and this is what we said about it:
Broken is a great showcase for [Paul] Phipps and [Dick] Boland, who should go on to good indie acting careers like Martin Donovan (star of Hartley's The Unbelievable Truth and Trust), if they choose to. Meanwhile, Hollinsworth proves to be a creative filmmaker when he doesn't have too much to work with: A creative script, two actors, a few simple locations (mainly one) and the rest created digitally. Nice.
Jay's finally getting this out on DVD and you can either buy the regular edition, which includes the film, trailers, production design samples and a conversation between the director and lead actor Paul Phipps.
Or, while supplies last, you can buy the Special Deluxe Edition, which comes with the above plus an actual board game! Based on everybody's favorite game — that would be Candyland — you get the board, game pieces and a die so you can drive the destiny of the main character, the slackerific Todd Kellogg who's losing his grip on reality. That's an image of the actual game up above, which is a really creative and unique promotional item. So, get one before they run out!
You can purchase either edition at Jay's Pedestrian Productions website. (UPDATE: Purchasing options no longer available.)