On DVD: Beetle Queen & Mad World
Two very different, but very worthwhile, films by first-time directors have come out on DVD recently.
First up is Jessica Oreck's exquisite ode to all things creepy and crawlie: Beetle Queen Conquers Tokyo.
Beetles are big business in Japan, but, more importantly, they are creatures to be revered and honored for helping Japanese culture stay in touch with the natural world. Oreck's portrait of the tiny critters and the larger world that fawns over them is brought to life in a swirling mix of scientific exploration, history lesson and sheer artistry. Can a movie about bugs be beautiful? Oreck shows us that it can.
From the Underground Film Journal's original review:
It's difficult to explain an entire culture, but Oreck does a masterful job of immersing us into the science, history and philosophy of Japan. Oreck is especially deft in how she ties together several Japanese traditions that Westerners may already be familiar with to explain why they're so fascinated by what we might consider creepy-crawlies. The tradition of the haiku, the religious beliefs in Buddhism and Shintoism all tie into the concept of "mono no aware," which is the ability to see the beauty in the transient.
Beetle Queen Conquers Tokyo has been released by Factory 25 and is now available on Amazon and Netflix.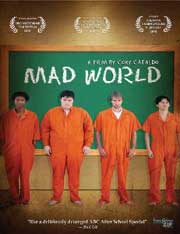 Also out is Cory Cataldo's Mad World, a comedy-drama about four drug-loving high school outcasts who fiercely rebel against their status-obsessed classmates, abusive parents and clueless "authority" figures.
The film is a slow descent into the darkest pits of teenage hell that features wonderfully natural performances from its four young stars, particularly lead actor Dylan Vigus whose character Will begs for equal amounts of sympathy and revulsion.
From the Underground Film Journal's original review:
One can appreciate Cataldo's slow simmer. The protagonists' friendships all seem very genuine. They actually are all bonded beyond the drug use and the bullying. Plus, all four actors also bring an ease and naturalness to their roles, so it is fun hanging out with them and one does become concerned for them and how they're going to handle their increasingly desperate situations.
Mad World has been released by Breaking Glass Pictures and is currently available on Amazon. Netflix subscribers can request it be included in their service.