On DVD: Bane And The Devil's Rock In The UK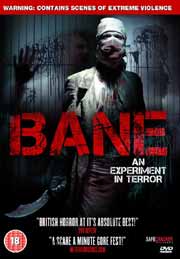 British horror fans rejoice! Two new fright flicks by British filmmakers have been released on DVD on your shores: James Eaves' Bane and Paul Campion's The Devil's Rock.
While Bane has been available in the U.S. for awhile now, it's finally getting its due in the country that spawned this dark and disturbing vision of a scientific experiment gone awry.
Four women wake up in a military medical facility, held against their own will, but for what nefarious purpose they cannot guess. During the day, they are pushed through a rigorous regimen of psychological torture, while at night a mysterious being breaks into their cell to carve into their bodies the time he's going to come back to kill them. And kill them he does, in terrifically brutal fashion.
Bane is now available in the UK on Amazon. (If any U.S. horror fans haven't seen the film, it's available on Amazon.com and Netflix.)
Watch the horror movie trailer for Bane: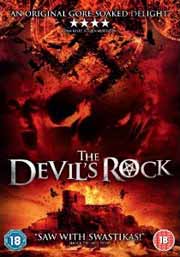 The Devil's Rock is the first feature film directed by acclaimed filmmaker Paul Campion and features special effects by Peter Jackson's Weta Workshop.
On the eve of D-Day, two WWII commandos infiltrate a German fortress where they discover a female demon the Nazis have conjured up to help them win the war. Of course, that plot completely backfires in extremely gruesome ways.
The Devil's Rock is available in the UK on Amazon.
The film is also currently on the international film festival circuit and although it's been picked up for U.S. distribution by Entertainment One, no release date has been announced yet. Also, while the Underground Film Journal has yet to see The Devil's Rock, please check out his amazing short film Night of the Hell Hamsters.
Watch the horror movie trailer for The Devil's Rock: