Offon — Scott Bartlett
Offon by Scott Bartlett (1968)
This film's title is spelled various ways in different sources. Variations include Off-On, Off/On, and Offon. The Canyon Cinema Catalog 3, published in Spring 1972, spells it Offon. However, all film titles in the catalog are spelled in all caps, so the Underground Film Journal has opted to spell it as Offon, also based on the title screen, which is in all caps. Some sources also give a completion year of 1967, but 1968 is correct.
Offon is considered one of the first works to combine film and video together. It was celebrated upon its release for both its technical ingenuity as much as for its artistic integrity.
Over the weekend of May 10th, 1968, Offon screened at the first Yale Film Festival at Yale University, where it was awarded First Prize by judges Annette Michelson, Willard Van Dyke, Bernard Hanson, and Jonas Mekas, who wrote about the festival in his Movie Journal column in the Village Voice. Mekas also noted that Offon was rejected by the pre-selection committee of the Oberhousen Film Festival in Germany.
The process to create Offon was a complicated one that was described by Bartlett and reprinted in the book America's Film Legacy by Daniel Eagan. First, Eagan explains that Offon was originally shot as twenty black & white 16mm film loops for a light show Bartlett was working on with Tom DeWitt called Timecycle. Bartlett then explains that the loops was transferred through a TV switcher where color was introduced through electronic television circuitry cross-feeding.
Bartlett further explains that:
Simultaneously we projected film loops on a rear screen on the studio floor and a television camera filmed that. The rear screen photage was constructed with a bank of projectors which included a lot of moire patterns & liquids. That composite mage was pumped into the system & crossbred with film chains. Usually the same image on both. Then a second camera is recording the transmission of that combination. It filmed a television monitor on the the control room floor.
Lastly, Eagan explains that Bartlett hand-processed the final film with food coloring through a trough.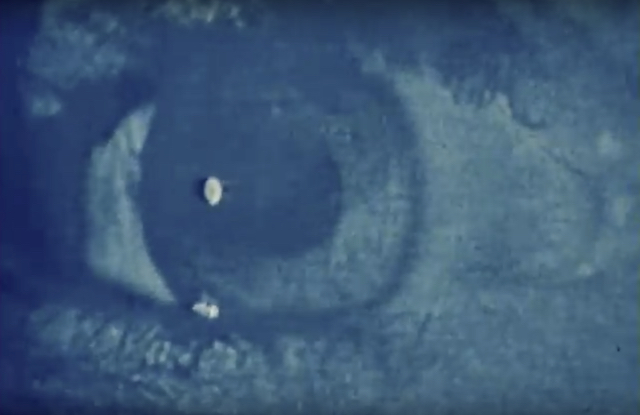 Another proponent of Offon at the time included fellow San Francisco filmmaker Bruce Conner who, in a letter to the Canyon Cinemanews reprinted in Scott MacDonald's Canyon Cinema book, thought that this film was far superior to the "star-slot" sequence of Stanley Kubrick's 2001: A Space Odyssey, which was released that same year.
Perhaps the biggest champion of Offon was film critic Gene Youngblood, who used a film still for the cover of his influential book Expanded Cinema, in which Youngblood also gives a similar account of the making of the film.
The Canyon Cinema Catalog 3 entry for the film gives two quotes to describe it, one from Youngblood and the other from Sheldon Renan. The entry reads:
"The language of Offon is evocation. We gaze at these iconic forms hypnotically, much the same as we are drawn to fire or water, because they make us aware of fundamental realities below the surface of moral perception." Gene Youngblood

"Offon is so striking a work, so obviously a landmark, that it has been acquired by virtually every major film art collection in America, from the Museum of Modern Art to the Smithsonian Institute." Sheldon Renan, Curator Pacific Film Archive
Lastly, in the book Film Is, Stephen Dwoskin says that Offon uses the "combined language" of video and 16mm as "a cross between kinaesthetics and figurative abstractions."
The film opens with title screens reading:
Offon © by Scott Bartlett
---
Thanks To
Tom Dewitt
additional footage
Michael MacNamee
vidio
Manny Meyer
sound composition