October Program Notes
Ok, I was trying to play it cool with these two little news bits, but then I got too excited, so here they are. See, I'm doing it again. To me, they aren't so "little." They're huge. Like, super huge.
1. What I was going to do was just put in a a sly mention in an official lineup. But, I can't hold back any longer: I've programmed the Avant MUFF section of this year's Melbourne Underground Film Festival. Richard Wolstencroft asked me to program three sessions for this year's festival, which is focused on the theme of "revolution." So, I tried to pick stuff on the theme of rock and revolution.
Considering that Mike Z is the biggest rock star filmmaker I know, I've set up a retrospective of his hoax films. I'm also screening one of my favorite movies of this year, Joshua von Brown's Altamont Now, and the documentary Plaster Caster, directed by my wife Jessica, which I think all fits together nicely for MUFF audiences. MUFF runs Oct. 9-19 and I'll have the full lineup soon.
Click the image below to embiggen my half-page in the MUFF festival book. If you want to see the entire impressive program you can download it from the MUFF site.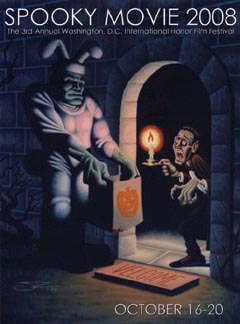 2. While I haven't programmed anything for this year's Spooky Movie Film Festival, I received a copy of the fest's printed program guide. What festival director Curtis Prather was nice enough to do was include a snappy Underground Film Journal quote from my review of Spooky Movie's opening night film, No Through Road — which, coincidentally enough, is screening at MUFF, too. It's a really terrific, scary film so I'm glad I can help promote it.
If you click the image below, you can embiggen the film's full page in the program. And again, if you want to see the full snazzy program, you can also download that from Spooky Movie's website.