NYUFF & CUFF: Class Of 2000-02
In light of the reported reduced attendance at Sundance this year, there was some discussion online this week about the role film festivals play in selling a film. The relevance of film festivals and their role in getting films distributed was actually a hot topic all through 2008. However, whenever the subject of "film festivals" comes up, I tend to get the feeling that people are really just writing about the handful of fests where deals actually get reported from, e.g. Sundance, Toronto, Cannes, et. al.
But is there any site that tallies up exactly how many film festivals there are even just in the U.S.? Underground film festivals, like the ones I cover on Underground Film Journal, are of course never about the sales, whether by design or circumstance, but the same can be said about most of the small indie film fests that exist. For the vast majority of indie and underground films made, a festival tour can be pretty much considered those movies' theatrical runs. Getting distribution — DVD distribution — usually involves playing at a whole bunch of festivals and a ton of leg work by filmmakers wooing different distributors.
Also this week, I was personally busy re-formatting old posts from back when I attended the New York Underground Film Festival from 2000 to 2002 and the year I went to the Chicago Underground Film Festival in '01. I originally covered those fests before this site was a blog and transferring them over to WordPress left them a mess that I didn't have time to fix until now.
Going through those posts, it was also interesting to see which films eventually got DVD distribution and which ones didn't. It made me kind of sad that some of my favorite and the more interesting feature films from back then; like Chris Wilcha's The Target Shoots First, Chris Jolly's Curse of the Seven Jackals, Barcinski and Finotti's Coffin Joe, Jesse Heffring's Coil, Duncan & Karsten's Maldoror, Sam Wells' Wired Angel, Jacqueline Garry's The Curse, Shane Hawks' Eyes to Heaven, and, most disappointingly, Giuseppe Andrews' In Our Garden; never got a chance to connect with a wider audience.
But, I was also pleased to see so many films did get a DVD release. (I didn't research theatrical releases.) Here's the list of DVDs I found. (Click titles for original review.):
2000 NYUFF:
The Shield Around the K, dir. Heather Rose Dominic. A profile of indie music label K Records, run by musician Calvin Johnson. My review of it at the time wasn't too flattering. I remember there being too much talk and not enough passion about the music. But K Records is still going strong and at least someone was there to document the scene at the time. Buy the DVD.
N.Y.H.C., dir. Frank Pavich. A bit more involving of a music documentary that same year was Pavich's exploration of the hardcore music scene in New York. I'm not — and wasn't — a big fan of that type of music, but Pavich had some terrific interviews with musicians and the live shows with their hyper-aggressive energy both on stage and off made this an exciting doc. Buy the DVD.
Migrating Forms, dir. James Fotopoulos. My favorite fictional film of 2000 was Fotopoulos' second feature about a guy who hooks up with a woman who grows a giant tumor on her back. He also starts discovering dead bugs and animals all over this apartment. A very surreal, dark film that I totally gave short shrift to when I reviewed it the first time. I was writing those reviews way too damn fast. Buy the DVD.
Songs for Cassavetes, dir. Justin Mitchell. This was another indie rock doc that covered the entire scene. I was particularly fond of this film at the time because it featured several of my personal favorite bands, like Unwound and Sleater-Kinney. But, it also had some great interviews and an absolutely rockin' soundtrack. It's no longer "in print" on DVD, but you can still find copies around. Buy the DVD.
2001 NYUFF:
Hey, Happy!, dir. Noam Gonick. In a post-apocalyptic Winnipeg, a gay adult video store clerk tries to seduce a mentally-impaired man and make him his 2,000th conquest. But, will an evil hairdresser get between them first? An extremely unconventional romantic comedy, Gonick really went out of his way to create a fascinating looking low-rent futuristic world. Buy the DVD.
Satan Was a Lady, dir. Doris Wishman. Made when Wishman was 89 years old and a year before she passed away, Satan Was a Lady proved that the first lady of exploitation still had what it takes. The film stars a vivacious Honey Lauren as a bad girl trying to go good in a world filled with beatniks and S&M-loving businessmen. The screen really smolders with this one. Buy the DVD.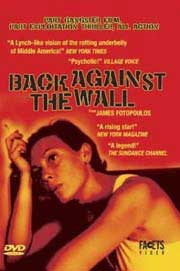 Back Against the Wall, dir. James Fotopoulos. As much as I loved Migrating Forms in 2000, Back Against the Wall was a tour de force by the extremely talented Fotopoulos. This is an extremely ambitious experimental feature that stars what has to be the most unusual person to star in a motion picture ever, Ernie E. Frantz, who completely steals the film. Buy the DVD.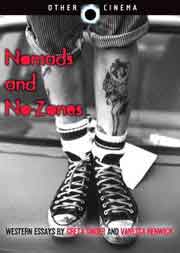 Films of Vanessa Renwick. Not a feature, but I absolutely flipped for a retrospective of Renwick's short films on the last night of the fest. By that time I was completely worn out by seeing so many films and writing about them, but her stories on the solitude of living outside "normal" social constraints totally blew me away. So, I was thrilled to find out Other Cinema put a bunch of her shorts on a shared DVD with another NYUFF favorite, Greta Snider. Buy the DVD.
2001 CUFF:
Plaster Caster, dir. Jessica Everleth. Full disclosure: This one was directed by my wife. However, I saw the film earlier at NYUFF before I even met her and instantly fell in love with it. (Like I did with her.) This is still a fantastic portrait of one of rock 'n' roll's most controversial figures: Cynthia Plaster Caster, the groupie who has made molds of rock star genitals from the '60s to the present. Buy the DVD.
2002 NYUFF:
Horns and Halos, dir. Suki Hawley & Michael Galinsky. Relive the Bush years all over again with this documentary about a small-time biographer who gets in way over his head when he tackles the life of Dubya just as he was running for president. When it's leaked to writer J.H. Hatfield that Bush was once arrested for doing coke, a major scandal erupts and only a small, radical publisher comes to Hatfield's defense. Buy the DVD.
The Atlas Moth, dir. Rolf Belgum. This documentary is a sequel to Driver 23 and both films chronicle the attempts by a Midwestern heavy metal band called Dark Horse to "make it" in the music business. While it's clear from the beginning that this band will never take off, one still has to admire — to some degree at least — their stamina and determination in light of not really working very hard at the music game. Buy the DVD.
Teenage Hooker Became Killing Machine in DaeHakRoh, dir. Gee-woong Nam. This is an extremely gory and violent feature out of South Korea that crams in a ton of grotesqueness and bloodletting in its brief 60-minute running time. The film also probably has the most apt descriptive title in the history of cinema as a teenage hooker becomes a revenge-filled robo-killer after hit men leave her for dead. Buy the DVD.