Nick Zedd Deported From Canada!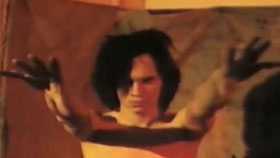 First, I totally spaced (yet again — and in the same week) and thought this event was going to be next week. So I'm bummed I did that and my apologies to Cinema Abattoir. However, by waiting, I think I've stumbled into an even better story.
This post was originally going to be about Nick Zedd, master of the Cinema of Transgression, showing some of his older as well as some more recent films at Cinema Abattoir in Montreal, Quebec. It sounded like a great two-night affair in which to watch Zedd's rarely screened and hard to find classics like Whoregasm and War is Menstrual Envy, as well as other films like No Plague Like Home and Of Lice and Men.
However, when I went to the Cinema Abattoir website for some more info, I was greeted with this news:
Nick Zedd will not be present at the Thursday 13th and Friday 14th screenings because he was stuck at the border because of a criminal record that got nothing to do with cinema. Both screening will be free and some alterations will be held at the program.
Thursday: Llik Your Idol stay on the program and some unannounced films will be added
Friday: The Quebec transgressive program is still on schedule and other materiel will be added.

Sorry for the disagreement.
How's that for living the Transgressive life!
Now, although Abattoir's site says Zedd's arrest has nothing to do with his films, Zedd himself gives a completely different story in a detailed MySpace blog posting. Zedd was specifically singled out for his film War Is Menstrual Envy, which allegedly contains "borderline criminal material." To add insult to injury, the Canadian cops tore up the leader on Zedd's 16mm copies of War Is Menstrual Envy, Whoregasm and Smiling Faces Tell Lies. That's not criminal behavior? Go read the full blog post for more of Zedd's horrific treatment all because he made some "dirty" films. I've heard that Canada is really strict with its censorship laws, but this is absolutely ridiculous.
So, all the more power for Cinema Abattoir for promoting "risky" underground and transgressive films. They put out the awesome L'erotisme short film collection DVD that I'm not going to stop raving about anytime soon. Seriously, head Abattoir guy Pierre-Luc Vaillancourt told me via email that another collection is coming out from his group and I'm totally giddy waiting for it so I can check it out. Hope it's out soon.
In the meantime on Friday, March 14 (probably when you're reading this), head out to their Transgression screening if you're in Quebec. It should be a killer night. It's being held at Friendship Cove in Montreal, Quebec and I think doors open at 8 p.m. and the screenings start at 9 p.m. (Half their info is in French, so excuse me.) Here's the films on Friday night:
Washing Machine, dir. Ca Ca Ca
Inner Depravity 2, dir. Rémy Couture
Yellow Fever, dir. Frédérick Maheux
Poupon Rose, dir. Serge de Cotret
Pinhole Flames, dir. Amy Schwartz
Lucia Super8, dir. Lucia Fezzuoglio
Goopy Spasms, dir. Rick Trembles
Hymn to Pan, dir. François Miron
Trash and No Star!, dirs. Karl Lemieux and Claire Blanchet
For more info, please visit the Cinema Abattoir site.