New Image Gallery: Kenta McGrath Digs A Hole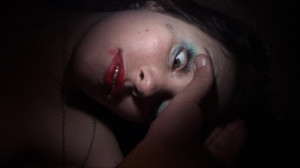 I haven't added a new image gallery in quite awhile. However, here's a new one for you courtesy of rising Australian filmmaker Kenta McGrath. These are production stills from his film about today's disaffected video-obsessed generation, Hole in the Ground. That's an image above and a few more below. Click through to see a few more.
Hole in the Ground was only the second film I've reviewed by McGrath, but he's one of those filmmakers of whom I'm an immediate raging fan. I strongly believe there's going to be a major revolution and resurgence in Australian filmmaking within the next couple of years that's going to take the world by storm. I base that on the amount of strong work I've been seeing lately from that continent. And I think McGrath is going to be one of those leading the pack.
McGrath is also building up his own little mini-media empire Down Under. He's recently launched a classy new website for his production company, Little Boy Pictures, where you can find news about his latest productions, including a new documentary I'm excited to see: Three Hams in a Can, and which will be making its world premiere at the Revelation Perth International Film Festival this July.
Below are the images I mentioned above, plus a short film that McGrath wrote and which was moodily directed by Will Faulkner. It's a creepy, surreal short called The Catch. And based on this, I hope to see more great work coming out of Faulkner, too.
Hole in the Ground Image Gallery:
Short Film: The Catch: