New Directors/New Films Selects Matt McCormick's Debut Feature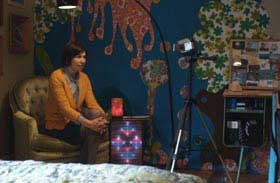 Celebrating its 40th year of spotlighting the world's best up-and-coming feature filmmakers, the Museum of Modern Art and Film Society of Lincoln Center's prestigious New Directors/New Films series has chosen Portland-based experimental filmmaker Matt McCormick's Some Days Are Better Than Others to screen.
McCormick is hardly a "new" director. He's been making short films and music videos since 1999. However, Some Days Are Better Than Others is his first feature-length project. The movie follows the lives of several quirky Portland residents who all experience the good times of their lives slipping quickly into memory, while their more painful moments are so difficult to let go of.
Starring in the film is Carrie Brownstein, the former guitarist and singer for the band Sleater-Kinney and current star of the hit IFC cable TV series Portlandia. Brownstein previously appeared in Miranda July's short film Getting Stronger Every Day (2001) and another short film directed by McCormick, Light Tiger Eye (2008).
In Some Days Are Better Than Others, Brownstein is an animal shelter worker who is painfully let down by the people closest to her. Also in the film, James Mercer stars a thirtysomething slacker who refuses to find full-time employment; Renee Roman Nose is a disillusioned thrift store worker; and David Wodehouse is an unappreciated 84-year-old filmmaker.
The film made its debut at the 2010 SXSW Film Festival and has been on the festival circuit since, playing at events such as the Chicago Underground Film Festival and the Ann Arbor Film Festival. Following the ND/NF screening, the movie will have a limited theatrical release.
In addition to making films, McCormick has been a great supporter of his peers' work, founding both the Peripheral Produce distribution company and the PDX Film Festival. PDX did go on hiatus in 2010, though, and it has yet to be announced when/if it is coming back.
To learn more about the film, please visit its official website and the official site for the filmmaker. You can also watch the trailer for Some Days Are Better Than Others below, as well as watch several of McCormick's short films and music videos, including an excerpt from his most well-known short film The Subconscious Art of Graffiti Removal and the video for Sleater-Kinney's "Jumpers."
Finally, below the trailer, check out the full New Directors/New Films lineup of movies.
Films screening at 40th annual New Directors/New Films:
6,7,8, dir. Mohamed Diab
At Ellen's Age (Im Alter Von Ellen), dir. Pia Marais
Attenberg, dir. Athina Rachel Tsangari
Belle Epine, dir. Rebecca Zlotowski
The Black Power Mix Tape 1967-1975, dir. Göran Hugo Olsson
Circumstance, dir. Maryam Keshavarz
Copacabana, dir. Marc Fitoussi
Curling, dir. Denis Côté
The Destiny of Lesser Animals, dir. Deron Albright
Gromozeka, dir. Vladimir Kott
Happy, Happy (Sykt Lykkelig), dir. Anne Sewitsky
Hit So Hard, dir. P. David Ebersole
Hospitalité, dir. Koji Fukada
Incendies, dir. Denis Villeneuve
The Majority (Çogunluk), dir. Seren Yüce
Man Without a Cell Phone (Bidoun Mobile), dir. Sameh Zoabi
Margin Call, dir. J.C. Chandor
Memory Lane, dir. Mikhaël Hers
Microphone, dir. Ahmad Abdalla
Octubre, dir. Daniel and Diego Vega
Outbound (Periferic), dir. Bogdan George Apetri
Pariah, dir. Dee Rees
Shut Up Little Man! An Audio Misadventure, dir. Matthew Bate
Some Days Are Better Than Others, dir. Matt McCormick (Watch online)
Summer of Goliath (Verano de Goliat), dir. Nicolás Pereda
Tyrannosaur, dir. Paddy Considine
El Velador, dir. Natalia Almada
Winter Vacation (Han Jia), dir. Hongqi Li