Music Videos: Two By Xiu Xiu
Indie avant-garde rock band Xiu Xiu has been known to get quirky underground film directors to make their music videos. Embedded into this post are two great examples. Above is the quietly beautiful video for the song "The Fox and the Rabbit" directed by Cam Archer. And below is the frighteningly deranged video for "Bog People" directed by Bob Moricz. Both videos are very different, but are appropriately fitting for the songs they accompany.
Each video also unmistakably fits in perfectly with its respective director's filmography. Archer's short films, such as above below, are emotionally painful examinations of alienated teenagers, while Moricz's work, such as his webseries Overdose in the Hospital of Love, are typically psychedelic, violent melodramas. While these two directors choose very different subject matter to explore, their visuals for these two particular songs are devastatingly enhanced by the sadness of the music, giving them a connection they probably wouldn't have without the music.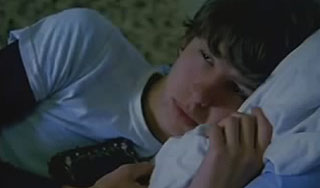 One extremely interesting visual connection also links the two videos. Both of them prominently feature a main character backlit to the point that their features are completely overwhelmed by darkness. In Archer's video, this is when the only person appearing in the video, a teen boy concocting and playing out an animal-themed fantasy life, begins fitting himself for a feather coat. This image appears twice, once when the boy fits a feather on his right shoulder, then again when he fits it on his left.
In Moricz's video, first there's a shot of a young boy framed from underneath while dark storm clouds gather above his head. Then, a few shots in, the boy and two adults are framed from a distance, silhouetted by an arch.
The characters in this type of lighting scenario offer up the idea of grim foreboding. Although Archer's character embarks on a fantasy life where he's able to exhibit unbridled personal expression, his actions are not freeing exactly because he remains solitary, unable to share the freedom of being a wild animal with another person.
Then, in Moricz's video, the grim foreboding is definitely warranted. The adults are medically tortured while it's indicated that the boy is most likely traumatized by witnessing the mutilations. Also, while seeing a man, a woman and a child together in one shot would suggest they are a family, there is no emotional connection between any of the three main actors, suggesting that they are stand-ins for the typical emotional turmoil that any family goes through, not that these specific events are occurring.
For more info on each filmmaker, please visit the official site for Archer and the official site for Moricz.