Music Video: Goths! On The Bus! By Karen & Jaimz Asmundson
Embedded above is, quite possibly, my favorite music video ever. It's at least the funniest. It's Karen & Jaimz Asmundson's Goths on the Bus!, which I'm calling a music video, but it's really a short film set to an original song, I guess by Jaimz and his wife. And, apparently, based on the true situation of goth kids frequently riding the bus in Canada. Whether or not any of them wear parrots on their shoulders, I don't know, but this film has so many great bits that you'll be singing for weeks after watching this — guaranteed.
I promoted this video on the Underground Film Journal's networking sites a few months ago and never promoted it here on the main site, which was a big mistake. But what reminded me to put it up here is this film was made for last year's One Take Super 8 Event at the WNDX Festival of Film and Video Art in Winnipeg, a festival that was co-founded by Jaimz and four other filmmakers back in 2006.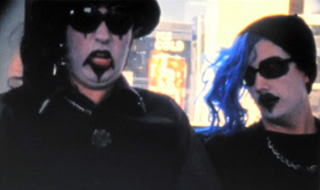 Well, WNDX and the One Take event is coming up again this year for their fifth annual edition. The Underground Film Journal is proud to put their schedule up every year since the first and I'll have this year's lineup on the site soon.
In the meantime, check out some more of Jaimz's films on Vimeo. Or, better yet, buy his "best of" DVD called Dirty Undies: Vol. 1, which is available on Video Pool.