Music Video: Eat Skull "How Do I Know When To Say Goodnight"
Take a hallucinogenic tour through a consumerist suburban hellscape in the video for Eat Skull's jangly song "How Do I Know When to Say Goodbye," directed by two Portland, Oregon underground film masters, Ben Popp and Bob Moricz.
You couldn't find two more different filmmakers than Popp and Moricz, yet this melding of warped artistic minds coagulates perfectly in an extremely disorienting fashion.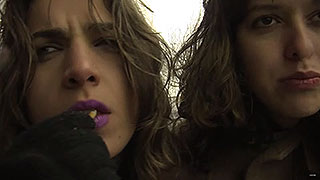 Popp is most well-known for his cut-out inspired black and white animated short films while Moricz's grungy video aesthetic has been terrorizing screens for years. However, what most connects these two is the frenetic energy with which they both imbue their work, which makes them surprisingly the perfect creative duo, especially to make visuals to match the jumpy beat of this particular song.