Movie Review: We Live In Public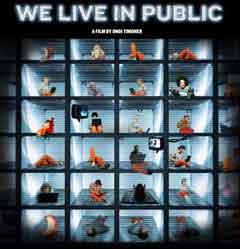 (Screened at the 2009 Los Angeles Film Festival on June 21.)
Ondi Timoner's We Live in Public is a fun, entertaining documentary. And a total con. Which is entirely appropriate since the film's subject, internet entrepreneur Josh Harris, is a bit of a con man. Yet, it's not totally clear if the film itself knows it's a con. It's a complicated one, but a con nonetheless.
Whatever Harris really is, he does make for an interesting subject. He was an early Internet pioneer who truly had a vision of where video and social media was going to take our culture. He founded an Internet TV website, Pseudo.com, before video was a viable online concept. Pseudo was one of those early '90s "new media" businesses that had lots of money pouring in from investors, significant attention by "old media," and clearly no viable or profitable business plan.
We Live in Public joins the club of similarly themed documentaries that includes Wonsuk Chin's E-Dreams, about the rise and fall of Kozmo.com, and Chris Hegedus and Jehane Noujaim's Startup.com, about the rise and fall goWorks.com. Both of those films came out in 2001 and what they lack and what We Live in Public has is a strong, charismatic lead subject in Josh Harris.
Another major difference that sets We Live in Public apart from other Internet documentaries is that the Pseudo.com story ends about less than halfway through the film. Harris was to abandon Pseudo in order to begin his most ambitious project: An art commune in the heart of Manhattan called "Quiet."
Flush with Internet video investment cash, Harris made a bold prediction. In the future, he believed, people would videotape themselves and post it for the world to see. So, taking that accurate prediction and pushing it to it's illogical conclusion, he built an underground bunker in an abandoned building, invited a hundred or so artists to live there and have every second of their time spent there videotaped. Sex and drugs ran rampant in this rule-free society, as did bullets in a firing range. That nobody got shot and killed during Quiet's existence is a minor miracle, but perhaps that was only the result of the police shutting the place down prematurely.
Timoner's con starts early when the director, who narrates the entire film, discusses being a part of Quiet. She not only filmed the commune for a planned documentary that would become We Live in Public, but she was one of Quiet's resident artists living and adhering to the group's rules. Allegedly, at least. Although making a point to mention she lived in Quiet, Timoner never gives a first person account herself of what it was like to live in this experimental community.
Timoner concludes her film with a dire warning that through online video, social networking and information-gathering tools by corporate websites like Yahoo!, that Harris' predictions that our privacy is completely lost has come true. Yet, somehow she's been able to write herself out of the narrative of Quiet. Outrageous public sex, public showers, CIA-interrogation techniques, excessive drug use and more were all for display and caught on video. What was Timoner's participation in all of this? From her film, we don't know.
Thus the film's ominous conclusion ends up ringing extremely hollow. The Internet really isn't a scary place just because Yahoo! can figure out, for example, that I like horror movies and can deliver horror movie ads to me while I check my email. And Harris' predictions actually come off as being horribly off the mark. He wasn't really predicting the future, he was just trying to hustle himself as some kind of visionary and people fell for it.
Two things that the film tries to sell us about Harris induce a quick gag reflex. One, that he's a sad, pathetic soul with a Gilligan's Island complex and, worse, that he was the Internet "Andy Warhol." Comparisons to Warhol are impossibly tiring. The thing that's most remarkable about Warhol is that he made what he did look so easy that any clown who comes along now — seriously, Harris started going to Pseudo board meetings dressed as a clown — who starts calling himself an "artist" and hangs around with outre people can con others into calling him the "new" Warhol. The main difference between Warhol and Harris? Warhol was successful.
But the really funny thing is that the "con," as I've been calling it, is what makes We Live in Public all the more interesting. It's a breezy film that doesn't want us to think about too much while we're watching it, as if we should accept everything right at face value. For example, when one early Internet entrepreneur states during his sit-down interview that anybody who could plug in a modem in the early '90s was viewed as a "rock star," we're expected to believe that's true. But the reality is that there were egos big enough who believed that about themselves back in the day — when nobody else did.
Harris is a slippery, frustrating character and the film, by revealing sensitive subjects like how horribly he's treated his family and loved ones, that it's a "warts-and-all" kind of portrait. But, things like Timoner editing herself out of his history, only reveal how glossy a portrait this really is. There's a bigger, missing, possibly dirtier picture here. So, while We Live in Public joins the ranks of Internet history documentaries, the definitive history of that time period still needs to be filmed.
More on this film: Movie Site
Watch the We Live in Public movie trailer: