Movie Review: The Silent Thief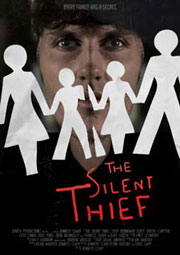 While it's easy and natural to assume that wayward drifter Brennan Marley (Toby Hemingway) is the eponymous criminal of the low-key thriller The Silent Thief, actually all of the characters in the film tend to keep mum about their lives of quiet desperation. The nice and seemingly normal suburban family that Brennan infiltrates are all leading lives of quiet desperation that make them easy prey.
The plot kicks in pretty quickly when Brennan is automatically welcomed with open arms into the Henderson family, who are renting out their son Mike's (Cody Longo) room while he's away at college. While there's the perfunctory glancing at Brennan's driver's license, none of the Hendersons ever really bother to verify his identity or, probably more importantly, his sanity before they start treating him as a Mike substitute.
At first, it doesn't totally seem quite believable that a well-to-do family like the Hendersons would let some freewheeling weirdo waltz right into their enormous beachside craftsman home. However, it quickly becomes apparent that daughter Elise (Scout Taylor-Compton) and father Howard (Kurt Fuller) have been conditioned to tiptoe around mother Candi's (Frances Fisher) tenuous grip on her sanity. With Mike's leaving, Candi's first experience with the empty nest syndrome is bound to send her straight to the loony bin if another strapping young male isn't allowed to occupy Mike's vacant bedroom stat.
None of this, though, is ever spelled out directly through the dialogue, which makes the script by Jennifer Clary, Kevin Haberer and Chris Sapp so refreshing. The trio of writers seem to have opted out of modern dialogue trends by leaving out the loads of needless exposition that clog up so many well-meaning, dim-witted thrillers.
For her feature film directing debut, Clary has assembled an extremely impressive cast of veteran character actors, like Fuller and Fisher, and non-glitzed up young performers, like Taylor-Compton and Hemingway. And it's easy to see why such strong performers would be attracted to the project as the script forces each character to inhabit dual identities: The public one they show each other and the dark private one that constantly feels like it's just a pinprick away from exploding out.
However, until that explosion, the surface dynamics between Brennan and the Hendersons are clearly laid out. A sexed-up, hot teenage daughter; a repressive, desperate mother; a detached father; and an over-eager-to-please favorite son are easy prey for a homeless kid looking to adopt a family as much as they're ready to adopt him.
At least the film's writers don't let everything pan out as an attentive viewer might assume. The grand twist — and, no, this isn't going to be a spoiler — lays in how the Hendersons' family dynamics start to wear on a con artist hoping to prey on his victims' emotional vulnerabilities. Too bad for Brennan, and good for the audience, that the Hendersons are so emotionally detached and repressed that his machinations never quite pan out the way he fantasizes they will.
The back-and-forth between con artist and family plays out on a somewhat casual level. This isn't the type of thriller that's a mad dash to a hyper-violent denouement. That's not to say that there aren't a few violent and emotionally intense scenes sprinkled throughout, but the film is paced more like a drama, slowly revealing each of the Henderson's inner familial turmoil as their interactions with their new houseguest progress.
The film never fully psychologically profiles Brennan, and doesn't need to, as long as we can get glimpses into his strange past, which we do through flashback, videotape and other mementos he keeps. Plus, he has regular open chats with a chummy homeless dude (John Billingsley) who, of course, is harboring his own tragic history.
With a fairly small cast and taking place in just a few locations, primarily a couple rooms in the Henderson home, The Silent Thief is an emotionally claustrophobic thriller that partially feels more expansive thanks to the rich camerawork by cinematographer Andrew Wheeler. But, the camera does tend to hang back a bit to allow each shot to revel in the very fine performances. It's good to see a thriller with nicely composed shots instead of going for the rapid whiplash pace that's usually so in vogue.
Director Clary and her collaborators buck a lot of trendy overused tropes found in modern thrillers to create a fine ensemble drama about a bunch of emotionally repressed and tortured souls. And, in playing with audience expectations, the most fun of The Silent Thief comes in seeing if, how and when the supposedly "normal" happy family eventually wears down the psycho loner who thinks he's manipulating them.
Watch The Silent Thief movie trailer:
[vimeo 37077130 w=480&h=270]
The Silent Thief photo gallery: