Movie Review: The Philosopher Kings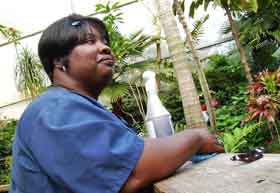 The documentary The Philosopher Kings, directed by Patrick Shen, is punctuated by Bill Clinton's 2007 commencement address to the 2007 class of the Rochester Institute of Technology. (My old film school alma mater, by the way.) In the speech, the former president advises the recent graduates to consider the workers who set up the chairs for them to sit on during the ceremony, and who will then remove the chairs and clean up the mess they leave behind before they move out into the real world.
Shen does just that. While the director doesn't profile any custodians at RIT — the Clinton footage appears to have been acquired, rather than produced for this film — The Philosopher Kings gets up close and personal with eight maintenance workers at seven different institutes of higher learning all over the country for an extremely moving and engaging film.
Choosing this topic for a documentary, and choosing a title like Philosopher Kings, there's a real risk of over-dramatizing and over-elevating one's subjects. Yet, Shen directs with a restrained hand. His subjects are just people. Nothing more, nothing less. They are hard-working folks just trying to make their way through this world like anybody else.
In the opening introductory statements, Melinda Augustus of the University of Florida says that the main trouble she encounters when she talks about what she does for a living is that people automatically assume she couldn't do anything else to support herself. Like all the other custodians profiled, Augustus appears to have just fallen into her profession, enjoys the work and does it with pride. But, as we later learn, she especially likes working for a university because of all the interesting things she learns as a by-product of cleaning up around educational material.
Some of the other custodians share Augustus' sentiment about working in an educational environment, but several others are just happy to do the work that they do. On the one side there's Oscar Dantzler of Duke University, who meticulously organizes and cleans the chairs of Duke Chapel and feels a sense of accomplishment of being a part of a place where many great people have strode and spoke.
On the other side, there's Corby Baker of the Cornish College of the Arts, who didn't have the chance to go to art school, but really soaks in the art of the one he cleans in order to inspire his own creations, including a life-size dinosaur replica made out of dozens of pieces of wood.
Also, in telling how they became custodians, most of the subjects describe the trajectory of their lives to get where they are. Some are mysterious, such as Baker who alludes to a troubled youth, but never gets into the details. Others have experienced real tragedy, although, again, Shen doesn't over-emphasize the hard luck stories, instead the custodians relate their stories as matter-of-factly as any other tale of their lives.
Augustus shares the most tragic tale, of her mother who was double-dosed on medicine during a C-section and then spent the next 11 years in a coma from which she never awoke. The most visibly troubling story is of Luis Cardenas of the California Institute of Technology, who lost an arm in a car accident For Luis, the emptying of a trash can and putting a bag back into it is a major production, yet he does it dozens of times a day without self-pity or complaint. He simply does what needs to be done because it is his job.
However, the most moving, powerful tale is of Josue Lajeunesse of Princeton University. Lajeunesse is a Haitian immigrant who works as a custodian per day and a taxi driver at night so he can send money back home to his family. More impressively, Lajeunesse's big ambition is to fund a delivery system to bring clean water down from the mountains to the villagers living below. (Lajeunesse's story was filmed before the devastating earthquake hit Haiti, the status of which must now be in severe jeopardy. I just hope his family is doing ok.)
So, are these custodians really "philosopher kings"? Maybe. Maybe not. But more importantly, as Shen shows us in a very beautiful way, they are people filled with hardships and joy and pride just like anybody else.
And if you happen to meet Melinda Augustus or anybody else who says that she is a custodian, don't blow her off as if she doesn't have anything interesting to say. Listen to her and treat her with the respect that all of us deserve.
Streaming On:


More on this film: Movie Site
Watch The Philosopher Kings movie trailer: