Movie Review: The Devil's Muse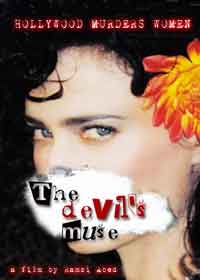 The Devil's Muse is a modern neo-noir thriller. It features a mystery that isn't very mysterious, but is successful nonetheless on its sheer stylistic strength.
Writer/director Ramzi Abed uses the infamous Black Dahlia murder case as a springboard for a similar tale of obsession and murder in Hollywood. Lisa Small (Kristen Kerr) is completely obsessed with Elizabeth Short, the 22-year-old woman who was found mutilated and cut in half in Los Angeles in 1947. In fact, Lisa loves the Black Dahlia story so much she believes she's a shoo-in for the lead role in a new film based on the infamous unsolved mystery.
But, she's not. The director of the film (played by real director Abed) chooses another woman for the role. This turns out to be a good thing because a lunatic is going around brutally torturing and killing women involved in the film. The police believe that the murderer is actually looking for Lisa and won't stop until he can claim her as a victim.
Lisa is a cypher. "Lisa" isn't even her real name and she routinely steals her female friend's boyfriends and wears the same outfit as her best friend when they go out to bars. Although she's distinctive in her passion to be like Elizabeth Short, these mimicking qualities she has erases her true personality and makes her a stand-in for the legion of women who have flocked to Hollywood to "make it." She goes to parties she really shouldn't be at and winds up with sleazy guys who promise her fame and fortune — after a trip to the casting couch.
While there's a strong narrative thread to the goings-on in The Devil's Muse, the finished product relies more on the build up of mood instead of story. This is to the point that each scene almost feels like its own little mini-movie, that one could mix up them up in different orders and still arrive at the same general ending. For example, the search for the killer is not a mystery any of the other characters really has to solve. Abed just reveals his/her identity during one of the torture scenes that occurs at what seems like a random moment in the film.
But the scattershot nature of the narrative is a little deceiving as the film almost imperceptibly becomes darker and more paranoid as it moves along. Abed is also good at deceptively creating scenarios that don't exist except in the audience's minds. The film makes one feel uneasy without going for over-the-top moments. The torture scenes are mostly of the close-up of bloody medical tools intercut with close-ups of a terrified actress' face variety. Plus, it's a very sexy film without having much in the way of sex scenes and little nudity.
Plus, Abed gets a lot of mileage out of his terrific stunt casting. Troma maven Lloyd Kaufman and American Movie's Mark Borchardt receive one cameo secne apiece it seems just so the credits list can boast their names. But who turns out to be completely excellent in the film is former Marilyn Manson bassist Gidget Gein, with a nasty turn as a grumpy police detective, and indie comics doyenne Dame Darcy of Meat Cake fame who doesn't have nearly enough scenes. She seems like a natural actress who really should get more roles. Plus, B-movie starlet Julie Strain, underground artist Robert Williams, and Spike Lee's brother Cinqué Lee all get a scene or two.
But the film really does belong to Kristen Kerr who, although her character is a cipher, brings a nice depth of mystery and seductiveness to the lead role. She goes along with the men who want her, desperate for the attention, but fearful of the result, sending her suitors into a tizzy of sexual frustration. Her friends want to help her, but she pushes them away by stealing their existence. At turns, she is desperate and sad and determined, sometimes all at once. Getting to know Lisa is the real mystery lying at the heart of The Devil's Muse.
Watch a scene from The Devil's Muse: