Movie Review: SMS Sugar Man
Aryan Kaganof's SMS Sugar Man has either the dubious or celebratory distinction — depending on your point of view of these kinds of things — of being the first feature film shot entirely on a cell phone, specifically the Sony Ericsson W900i. Given the film's strong sexual content, Sony probably won't be championing the film any time soon. But, in their absence, I will.
To Kaganof's grand credit, the technique in which the film was shot never comes across as being gimmicky. The majority of the movie is shot as any traditional movie is shot despite the unique camera being used. Every once in awhile we do get a direct POV shot from one of the characters holding his or her own camera, but this is used very sparingly and is thus unobtrusive.
Scenes are mostly lit and executed as if filmed with a traditional camera. What's most surprising about the movie is that one might presuppose — or, at least I did — that it would be comprised of mostly quick cuts. I don't own a cell phone with a camera, but I had assumed one of them could only hold small files for short scenes. Against expectation, Kaganof comprises SMS Sugar Man with fairly longish shots and gives the film a very lyrical tempo.
The entire plot of the film takes place on one Christmas Eve and director Kaganof and cinematographer Eran Tahor suffuse their scenes in yellow and red hues. The effect of this, however, is to give the film a less overall holiday feel and instead nicely gives the impression that these characters are burning in the fires that they've stoked for themselves.
Kaganof stars as the eponymous Sugar Man and he's introduced in a clunky intro scene where he orders a hit on the father of his girlfriend Selene's (Deja Bernhardt) child. But the bumpy ride quickly smooths out when we learn that Selene is also a prostitute pimped out by Sugar Man. On one Christmas Eve in Johannesburg, Sugar Man pimps Selene and three other white girls, whom he calls "sugars," out to lonely and horny rich black dudes staying in posh hotels.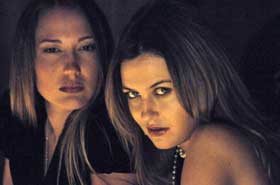 Given the smallness of the camera being used, Kaganof frequently brings it in close to capture a brutal intimacy between the characters. And I'm not using "intimacy" as a synonym for sex here despite the film being about prostitutes. The sex in the film is an act that is sometimes consumated, but more often its an act that serves to separate people on a raw emotional level. One prostitute has such a devastating personal encounter with a client that she runs away from her profession and pimp in a psyche-shattering rage, all without ever giving that client what she was paid to do.
In that regard, the script never takes the cheap route in the telling of the story. For that, SMS Sugar Man is a film that defies expectations on several fronts. This is a poetic, haunting film that uses a bold new technology to capture the most basic and primal of human interactions. Kaganof focuses sharply on the evils of love, sex and obsession in a new medium that mutes out the detail and grain that can be seen in traditional film. Some may see this as a heresy to the history of filmmaking, but Kaganof has taken a secure first step on a viable new path of capturing compelling emotions in a whole new lens.