Movie Review: Sins Of The Fleshapoids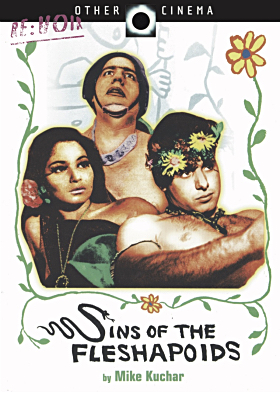 I first saw Mike Kuchar's Sins of the Fleshapoids probably over fifteen years ago at the Dryden Theatre at the George Eastman House in Rochester, NY. That's where I fueled my nascent interest in underground films, watching many of the classics from the '60s and earlier, such as Kenneth Anger's Scorpio Rising, Jack Smith's Flaming Creatures, Maya Deren's Meshes of the Afternoon and Stan Brakhage's Window Water Baby Moving. Good times. And it's nice to see the Dryden using a fancy WordPress blog as a screening calendar these days. More theaters should do that.
Two years ago, Other Cinema released Fleshapoids in a handsome DVD package that includes two other Mike Kuchar classics, The Secret of Wendel Samson and The Craven Sluck. Plus, you also get new commentary tracks with each film by Kuchar with some prodding by avant garde playwright/actor Dan Carbone, as well as a printed interview booklet with Mike conducted by film historian Jack Stevenson.
(As an aside, I think the only film in my list in the first paragraph not available on DVD is Flaming Creatures. That needs to be rectified somehow.)
Revisiting the film after a decade and a half, it's clear why the film still remains a classic after over forty years since it was made. Kuchar and his collaborators were really firing on all cylanders during production and the finished product stands as both a bold homage to old-time garish Hollywood excess and as an amazing precursor of cinema to come.
The film's strong visual style really leaves in indelible impression on the brain, and it's interesting to learn via the commentary track just how much of that was left up to chance as well as Kuchar allowing the stars of the movie to develop their own looks. The iconic image from the film is of course lead actor Bob Cowan as the lead Fleshapoid robot in that nutty, pseudo-Nazi-esque helmet, which Kuchar claims was some sort of children's toy that Cowan discovered himself. But also, after putting on the helmet, Cowan fully throws himself into acting as a robot with these quirky, jerky body movements and overly expressive facial expressions. It's a totally bizarre, otherworldly performance.
Mike's twin brother, George, pretty much does the same thing, throwing himself with abandon into the role of the cruel, effeminate Prince Gianbeno. Wearing crazed glitter make-up and a sparkly regal uniform, George gives a performance worthy of a classic German expressionist silent film. Mike also reveals in the commentary that it was George's idea to throw in the gratuitous cheesecake scene featuring the beautiful Donna Kerness wearing nothing but two giant flowers over her breasts and a leaf over her crotch and buttocks, while her exposed, naked skin is covered in sparkle make-up. George both dressed and filmed her as she does nothing more than twirl for the camera in exaggerated beauty poses.
Although the film is an odd mish-mash of genres, combining low-budget sci-fi with tacky Hercules B-movies, it's that tackiness as well as a gaudy visual style meant to evoke '60s Marvel superhero comics that ties the whole thing together. In addition to the plot of robots falling in love and replacing humanity, the film is just as much about the explosion of colors on the screen, as if a rainbow puked all over the set and the actors. It might take a little while for the plot to really get moving, but the eye is so assaulted from the first frame it doesn't even matter.
Previous to getting this disc, I had never seen any of Mike Kuchar's other films, but the two included here provide a great contrast to the Fleshapoids. Really wanting to push himself to explore different cinematic styles, Kuchar followed up his first hit with a subdued noir-ish psychodrama called The Secret of Wendell Samson, about an artist played by Red Grooms who grows bored with his homosexual relationship, but also fails to get involved with his female best friend who is madly in love with him. Finally, The Craven Sluck, which may be the best title of any film ever made — even better than Sins of the Fleshapoids — is a black-and-white, over-the-top domestic drama starring Florain Conners, a classic Hollywood sexpot type, who has an affair with a married creep.
What's really interesting watching these three films back-to-back is that while Kuchar's outward style is to ape other, different cinematic styles, his films are ultimately extremely personal expressions that get hidden underneath all of the camp. Kuchar doesn't reveal too much about himself personally in the commentaries or in the printed booklet beyond his thoughts on filmmaking and the moviemaking process, these films all seem to be about people, or robots standing in for people, who are not comfortable in their own skin, either Bob Cowan's Fleshapoid, Red Grooms as Wendell Samson or Floraine Conners as the harried housewife. Plus, while none of the humans in any of these three films fare very well, it's only the Fleshapoid who finds true happiness in the end and exhibits any real passion. Long live the Fleshapoids!
Watch the Sins of the Fleshapoids movie trailer: