Movie Review: Morris County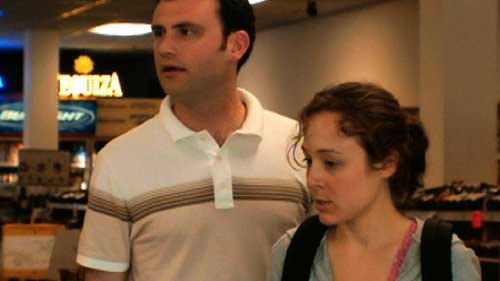 Suburban New Jersey is the land of sex and death in Morris County, a triptych of twisted tales by writer/director Matthew Garrett. The three short films that comprise this feature bear no connection to each other, except in tone and similar story structure. Yet, each film is a perfect little gem that, when stuck together, adds up to a fully satisfying viewing experience.
Morris County begins with "Ellie," the tragic story about an angst-ridden teenage girl. "Ellie" also sets up the pattern that each short film will follow: Mainly tracking the path of a lonely, tormented soul. But the real genius of the film is how Garrett structures each one of those paths, slowly revealing complications that deepen and enrich each character's inner turmoil.
In Ellie's case, at first she seems like your ordinary surly, rebellious teenager who's probably pissed off — if you follow some early clues Garrett lays out — about her father's re-marriage. As played by a scowling, tight-lipped Darcy Miller, Ellie doesn't seem especially sympathetic when she rudely ignores her step-mother and plays hooky to smoke cigarettes in the park.
Things quickly take a much darker turn when Ellie goes into a liquor store to buy a pint of whiskey. Clearly underage, Ellie is eager, but not gleeful, to paying for that whiskey with more than money when the two creepy guys manning the counter suggest they all retire to the storeroom for their "payment." This is an horrifically tense scene that starts to clue us in that there may be more to Ellie's rude and angry demeanor than we know.
Just as we learn there's more to Ellie in this scene, we also learn a lot more about the actress playing her. Miller reveals, almost out of nowhere, a surprising complexity. In a few simple reactions and gestures, Miller immediately flips Ellie from being an unsympathetic character to being strongly sympathetic. Any woman in this situation we would worry for her safety, but our concern for Ellie is heightened when her rebellious facade starts to show some cracks and we see the scared little girl underneath when the men begin taking advantage of her.
Ellie does get out alive and her day, unbelievably, goes from bad to worse. Ultimately, though, we do learn the cause of her inner turmoil and her struggles are revealed to be an escape from victimhood. Betrayed and having nowhere to go, these attempts to gain control of her life again end up having tragic consequences that leave her in a worse place than she began.
For the second short, Garrett mixes things up a little bit by not focusing on just one character, but introduces us to "The Family Rubin," composed of mom, dad and their son. Almost immediately we are also introduced to a simmering tension in the marriage when they all attend temple together. It isn't until the family is back home that we learn what that tension stems from: Mom and dad are leading essentially separate lives and are on the verge of divorce. In fact, mom, fed up with their life together, demands one.
Instead of having a shifting sympathy within one character, like with Ellie, in "The Family Rubin" that shift occurs between the spouses. At first, we're led to believe that the mother, Rachel (Maren Perry), is a callous cheater and that her husband, Noah (Albie Selznick), is a pathetic, cuckolded spouse. She makes loving eyes to her boyfriend, Benjamin (Peter Ganim), at temple and makes dates with him openly on her home phone.
One night, left alone to take care of their son Joshua (Robbie Peters) — whom both parents, wrapped up in their own selfishness, don't see is an animal-abusing serial killer in training — Noah takes the opportunity to explore life as a single man. In that exploration, we finally get to find out what might drive Rachel to leave him and that revelation explodes out in humiliating public fashion.
This isn't to say that Noah becomes an unsympathetic character. Although some of Noah's actions are reprehensible, Selznick plays him as a character wracked by an intense inner turmoil so that we can pity him. What makes Selznick's performance especially striking is his ability to reveal so much in largely non-verbal ways. Although "The Family Rubin" does well to develop all three family members, its Selznick who is really the main focus.
For "Elmer & Iris," Garrett deceptively makes us think the final segment is going to focus on two characters, and it does in a way. Iris (Alice Cannon) is an elderly woman forced into retirement to spend her final days with her crotchety husband Elmer (Erik Frandsen).
However, as soon as Iris loses her job, Elmer dies on the couch after watching their favorite TV show together, "Reali-Date." Rather than call the police or the coroner, Iris leaves her husband right where he is and tries to get on with her life. She's the kind of person who can try to find the good out of any situation.
Once again, Garrett tries to have our sympathies switch on Iris, although that attempt is less successful here than in the previous two segments. The process in which Iris is transformed from a daffy grandma type to a sad soul who has good reason to put on such a brave face feels a bit forced as it comes through in dialogue only and not action like it did with Ellie and Noah. However, all the segments of Morris County feature really great actors in their leads and Cannon is no exception as Iris.
"Elmer & Iris" is still a strong piece, diminished only slightly by how much stronger the first two are. That's the risk a director takes by making an anthology film, that all the segments are going to be judged by how they work alongside each other, not just how they work on their own. Thankfully, Garrett took on that risk because alone as their individual segments and together as Morris County, this is a very moving, poignant film.
(This film was sent to the Underground Film Journal as a screener from the 2009 Boston Underground Film Festival, which runs this year March 19-26.)
Watch the Morris County movie trailer:
Morris County photo gallery: