Movie Review: Modern Love Is Automatic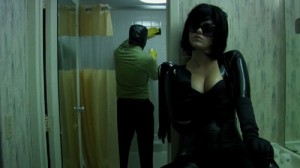 (Note: You can watch this film for free online here.)
The main character of Zach Clark's modern comedy Modern Love Is Automatic is a statuesque nurse named Lorraine. She's strikingly pretty enough to see easily why every man who crosses her path throws himself at her feet, and she's played with a cold-hearted precision by Melodie Sisk who makes it even more easy to see why those men are driven literally insane by her blank, right-through-you stare.
During the early scenes, it seems that Lorraine's apathetic and seemingly emotionless demeanor is eventually going to drag the film down with her, even when she's indulging in outrageous behavior, like trying to break into the dominatrix business. The cold, static visual style that mimics Lorraine's emotional state only seeks to emphasize that feeling. But the film does liven up a bit with the introduction of the bubbly Adrian, played by an absolutely hilarious Maggie Ross as a cute, petite girl with delusions of becoming a professional model.
When Adrian moves in with Lorraine and declares that they're going to be the "best roommates ever," Ross quickly steals the show from under Sisk and the audience is led to believe that the film is going to follow a clichéd path: That the gregarious Adrian is going to continue to babble away completely unaware of how much she's getting under the skin of the stoic, speechless Lorraine.
However, on a low-key level beneath the raucous sexual chaos happening in the film's forefront, the relationship between these two women grows deeper as they start to exhibit more complex sides to their personalities. Lorraine isn't as emotionless as she leads people to believe and Adrian's obliviousness seems more willful than born out of ignorance. The entire crux of the film hinges on Lorraine and Adrian's relationship despite much of their interaction being on the level of two ships passing in the night. It's in that subtlety where the film's true brilliance lies.
Because on the surface, there's nothing subtle about the film's quasi-sleazy, exploitative comedy. After a random encounter, Lorraine becomes obsessed with becoming a dominatrix. She's rebuffed from being hired by a professional underground dungeon, so she takes out a personal ad and soon her week is filled with willing submissives. Her hapless clients run the gamut of traditional fetishists — e.g., the gimp-y clean freak, the diaper-wearing man-baby, the smeared-with-food fanatic — who all want to be punished by the imposing Lorraine trussed up in a sexy skintight black leather outfit and capped with a black wig.
Meanwhile, desperate for any modeling gig she can get, the awkwardly sexy Adrian gets a job at the best mattress store ever. Run by an old pervert, the store employs girls willing to lie on the beds for sale with lonely guys who feel them up before handing over their credit cards. (Do stores like this actually exist? Because it's a genius concept.) Adrian also has a vaguely creepy boyfriend, Mitch (Carlos Bustamante), who becomes infatuated with Lorraine to the point of stalking her to her illicit encounters.
The film's deliberate pacing belies the fact that the action is barreling along like an out-of-control freight train. Yes, the train may be moving slowly, but the cliff its heading for is no less deadly. The tension is a slow build and eventually erupts in magnificently unexpected ways. Some scenes in Modern Love Is Automatic are terrifically funny in the way Clark brilliantly sets them up, while other parts of the film are truly heartbreaking. But it all blends together seamlessly in this exceptionally moving comedy.
Watch Modern Love Is Automatic online for free!
(This film was sent to the Underground Film Journal as a screener from the 2009 Boston Underground Film Festival, which runs this year March 19-26.)
Watch the Modern Love Is Automatic movie trailer:
Modern Love Is Automatic photo gallery: