Movie Review: Mock Up On Mu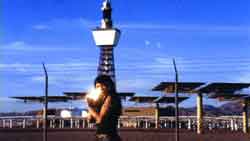 Mock Up on Mu is the newest "collage narrative" from Craig Baldwin since 1999's Spectres of the Spectrum. However, at a nearly two-hour running time, this new film is so dense with images, film clips, ideas, real history, made up future history and other sci-fi concepts, plus much, much more that one might think Baldwin must have worked on this project for 30 or 50 years.
Indeed much of the film is the result of Baldwin's lifetime of collecting of obscure films, even though the movie also includes a lot of original footage shot by the director. One of the great thrills of the movie is on the simple level of just marveling at how Baldwin must have put the project together and to keep it all straight. He's like a mad scientist putting in a little bit of this and a little bit of that to create a living, breathing creature.
The plot of the narrative uses as a jumping off point the real life relationship between L. Ron Hubbard, Jack Parsons and Marjorie Carson. Personally, I know little about Hubbard beyond the obvious and literally nothing about Parsons and Carson. However, the mythology of the film is really all Baldwin's anyway. There's also a much broader cast of characters, including Aleister Crowley and the personification of Lockheed Martin. There's so many characters in fact, that you need a scorecard to keep track of them. Luckily, Baldwin provides that scorecard in the form of a pentagram that floats between chapters.
Plus, the chapter structure that Baldwin fits his story into — and, appropriately enough, there's 13 of them — gives the procedings more of a novelistic feel than a filmic one, which is an interesting contradiction for a film that relies on so many old movies to tell its story.
And what a story! Mock Up on Mu is a rollicking romp through '50s spy movie aesthetics with a sci-fi bent. A couple years into the future, Hubbard (Damon Packard) wants to lure celebrities to his colony on the moon so he sends the mysterious Agent C (Michelle Silva) back to Earth to seduce Lockheed Martin (Stoney Burke) and Jack Parsons (Kalman Spelletich) into building a massive rocket launching station just outside of Las Vegas. The plan hits a snag, though, when Parsons gets hip to Hubbard's tricks and an ill-fated romance develops between himself and Agent C. Plus, during all the machinations, we learn the real history of these characters.
Baldwin's mythologizing lies at the intersection of science and spirituality, with a slight nod towards the history of underground filmmaking. The film briefly namedrops Kenneth Anger and the sequence that introduces us to Parsons, which consists solely of original footage shot by Baldwin, is a definite visual homage to the director of Lucifer Rising.
Mock Up on Mu is a heady trip that, although more narrative than the work of Anger, Brakhage and Smith, is still a direct descendant of the '60s avant-garde film scene: Trippy visuals, a call to a higher plane of consciousness, glorifying and slightly mocking Hollywood of old. Although there's so much that Baldwin is trying to reference and riff off of, it's amazing how straight and focused he manages to keep it all. Working as a collage narrativist, Baldwin knows how important it is to stay on the narrative. Mock Up on Mu may contain thousands of different bits, but he pulls them all together in the service of his story to create one very dense, complex and entertaining work.