Movie Review: Jack Smith And The Destruction Of Atlantis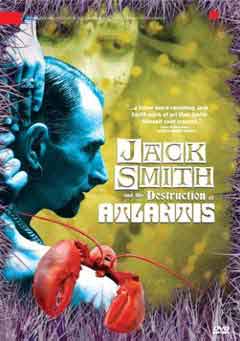 Jack Smith is a conundrum. During his career as an artist, he considered his life his art and fiercely fought any attempts by people to collect and display any work that came as a result of that life. If one wanted to experience Smith's art, which combined painting, performance, film and photography, one would have to visit him personally and interact with it on his terms only. Yet, Smith was so creative and unique, to let his work pass into history without a wider cultural appraisal and appreciation seems like a crime.
The documentary portrait, Jack Smith and the Destruction of Atlantis, shines a spotlight on the artist that, one has to interpret, he never would have wanted. This is a film that could only be made after Smith's death. (He died in 1989 from AIDS-related pneumonia.) Despite what Jack may have wanted, it's a good thing director Mary Jordan did indeed make this film.
Looking at Smith's career from an outsider's perspective, the great tragedy appears to be that his most famous achievement, the groundbreaking 1963 underground film classic Flaming Creatures, prevented him from creating other popular works to be enjoyed by the masses. Irate after underground film promoter Jonas Mekas removed the film from the filmmaker's possession so that it could be screened across the country and overseas, Smith would never make another film he considered "completed" ever again lest somebody else steal his work. Again, there's the conundrum. Was Mekas a villain out to just make a name for himself — Flaming Creatures was deemed officially obscene and Mekas was arrested several times for screening it — as Smith contended? Or was Mekas merely saving an important cultural artifact and challenging the obscenity laws to eventually give other artists more freedom from censorship?
While The Destruction of Atlantis amply gets into the Mekas controversy, Jordan smartly doesn't pick a side. The documentary is basically narrated by Smith from recordings made before his death, so we get his full perspective on Mekas — and it's not a pretty one. But, Mekas also appears in the film to give his explanation of events. So, in that regard, Jordan's portrait of Smith is a good, well-rounded one.
By all accounts, Smith was an incredibly difficult person to get along with and just about everybody who ever got involved with him eventually had some sort of falling out. Although the documentary doesn't play armchair psychiatrist, I think it's pretty clear that he was bipolar, which would explain the bizarre, mean-spirited tirades he always eventually spewed against his best friends.
Despite his behavior, people remained devoted followers of Smith's work and Jordan has assembled an impressive lineup of fellow artists to sing his praises. In addition to Mekas, there are underground filmmakers like Ken Jacobs, George Kuchar, Nick Zedd and John Waters; writers and critics like Gary Indiana and Andrew Sarris; fine artists like Mike Kelley; and other underground performers, like Taylor Mead, Mario Montez, Holly Woodlawn and Judith Malina. Although these are all well-known names to the art and underground crowds, there's the question if all these testimonials would mean anything to those not already familiar with them.
Since the film follows Smith's life chronologically, it does take about an hour into the documentary to get a solid understanding of just why Smith was such an important figure in art and cultural history. However, by that time, Smith was devoting his time to his live avant-garde productions, so there isn't as much footage of him then as there was during his filmmaking and movie acting heydey. The film may have been a bit better served if it had tipped the scales in a more non-chronological order, developing the myth of Smith first then figuring out how he got there.
It's also a bit sad figuring out who is not in the film, particularly film critic J. Hoberman who wrote the monograph On Jack Smith's 'Flaming Creatures' and Penny Arcade, the performance artist and self-appointed archivist of Smith's work. Actually, the production of The Destruction of Atlantis stirred up a hornets nest of legal issues of who is the proper steward of the Smith estate. None of this particular controversy is in the film, but Hoberman and Arcade are challenging the ownership of Smith's films and artifacts with Smith's estranged sister Mary Sue Slater, who does appear in the film to talk about Smith's childhood. However, Smith completely cut his family out of his life and Slater makes several oblique references to Smith's homosexuality, saying things like "He was 'ok' before he went to New York."
Regardless of all that, Jack Smith and the Destruction of Atlantis is an illuminating portrait of a figure who, because of the artistic ideals he lived by, is a greatly mysterious and unknown one. Jordan's film certainly gives Smith his due, which is very fortunate. Unfortunately, Smith probably would have hated that.
Watch the trailer for Jack Smith and the Destruction of Atlantis: