Movie Review: It Is Fine! EVERYTHING IS FINE.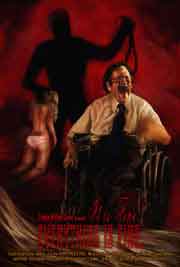 I caught the second film in Crispin Glover's "taboo" It trilogy on Saturday Dec. 8 at the American Cinematheque's Egyptian theater in Hollywood. Like the first installment, What Is It?, Glover is self-distributing his sophomore directing effort in the strictest sense: The film only screens with Glover in attendance.
The evening starts out with a live performance of his Big Slideshow, then the movie plays, and finally Glover follows it all up with a Q&A session and book signing. Although I cut out of the Q&A after a few questions — each answer took about 20 minutes — the whole thing adds up to one really wild night. It's a total experience, a slippery descent into the mind of a uniquely provocative entertainer. But, for this write-up, I'll focus just on the film itself, which is co-directed by David Brothers.
The real force behind the movie, though, is the late Steven C. Stewart who wrote the screenplay and stars. Born with cerebral palsy, Stewart gives an absolutely fearless and bold performance, not only for the full-frontal nude scenes with his severely contorted body, but for casting of himself as an evil, degenerate villain.
It's already strange enough to see an actual handicapped person play a handicapped role on-screen (and that's the word Stewart used to describe himself). But it's even odder to see him behave like a regular person, full of rage, jealousy, duplicity, sexual desire, etc. This isn't the typical feel-good portrayal of the handicapped that we're normally accustomed to by actors looking to land an easy Oscar nomination.
It Is Fine! is a boisterous howl at the world from a man whom most people aren't going to comprehend — and I mean that literally. Stewart's speech is virtually impossible to figure out. About halfway through the flick, I was able to catch a couple of his sentences as long as they were short and to the point. I kept thinking I'd catch on a little bit better than I actually ended up doing, like the way it takes a few minutes to understand British accents in an English film.
However, it's not difficult to understand what Stewart is saying even though the words coming out of his mouth are unintelligible. The script he wrote is so tight that whenever his co-stars respond to him, it's simple to go back in your mind and infer what it was he said. Also, while It Is Fine! is fairly plot heavy, the movie is more about mood and tone. Even without the words and even though Stewart's face isn't as expressive as a non-handicapped actor, his emotional state in every scene can be read loud and clear.
The film starts out as a typical noir flick. Stewart is the debonair Romeo who lands the attention of a beautiful, sophisticated older woman, played by Margit Carstensen who, with her German accent, isn't the easiest to understand all the time either. She's separated from a real lout of a husband, played with hilarious gruffness by Bruce Glover, i.e. Crispin's father. Carstensen asks Stewart to protect her kids from Glover, which he does and which earns him the admiration of Carstensen's hot daughter (Carrie Szlasa).
This all seems like a set-up for a showdown between Stewart, Carstensen and Glover. Things do eventually take a dark turn for Stewart, but not in any kind of expected way. I don't really want to reveal the twist, but lots of good-looking women eventually end up getting completely naked, as does Stewart who beds them all. Plus, lots of people end up getting killed at Stewart's hands.
Sadly, Stewart passed away just one month after filming ended, so he won't get to see people's reactions to his story. I'd think he'd be proud and happy at the final film. I also did catch What Is It?, which I'll be writing up in a separate review, and It Is Fine! is by far the superior movie, solely because of Stewart's amazing script.
More on this film: Movie Site