Movie Review: It Came From Kuchar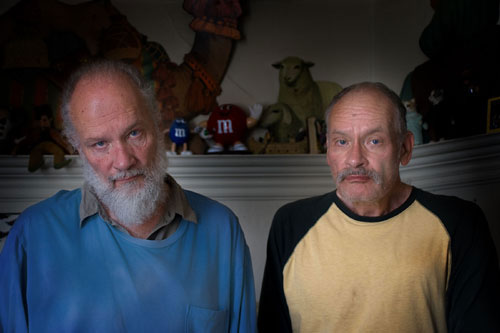 Movie lovers who are familiar with the '60s underground film scene are at least aware of and may have seen some work by twin filmmaking brothers George and Mike Kuchar, but general movie audiences are not.
It's probably a good bet that there are more people who are unfamiliar with the Kuchars than there are people who are committed fans. Happily, Jennifer M. Kroot's documentary profile of these unique movie directors, It Came From Kuchar, should appeal to both die-hard and casual fans, as well as to virgin initiates.
Kroot begins with a quick introduction to the '60s underground film world where the Kuchars occupied a totally unique space. While most other avant-garde and experimental filmmakers were concerned with making art or creating a cinematic revolution, the Kuchars made goofy, impassioned parodies of the Hollywood melodramas that they were obsessed with as kids. However, their attempts at humor were not to ridicule Hollywood conventions, but to pay respect to them via a lighthearted campy sensibility.
At first, the brothers directed their films together, which include lurid titles such as I Was a Teenage Rumpot, The Wet Destruction of the Atlantic Empire and Pussy on a Hot Tin Roof. Then, in 1965, the pair split up over the film Corruption of the Damned, a division that is only somewhat glossed over in the film. The brothers will only say that they both evolved into having different filmmaking styles. And if that's all those two are going to say, then Kroot is really pretty much stuck on being unable to elaborate.
Mike and George are exceptionally candid about their childhoods, though, and about what led them to filmmaking. Their home life wasn't a particularly happy one. Although the two don't speak ill of their father, the anecdotes they share about his abusive tendencies are somewhat horrifying. Thankfully, Mike and George have developed an "Oh well, whattaya gonna do?" attitude and haven't spent their lives mired in bitter resentment and recriminations. But, I have to say, the story about their father blowing smoke into their pet parakeet's face and then letting the beloved bird fly out the window is absolutely heartbreaking.
Instead, they've spent their lives creating great, fun cinema and serving as a tremendous inspiration to young, aspiring filmmakers. Since 1971, George has been teaching filmmaking at the San Francisco Art Institute. We get to see his very "hands-on" style of education, throwing his students right into the middle of the whirlwind chaos that comes out of his brain and onto the set. Students are cast and crew alike, changing roles at George's every whim.
George's style of filmmaking has evolved from parodying pure melodrama to focusing on campy occult and horror movie send-ups with titles like The Fury of Frau Frankenstein, The Guzzler of Grizzly Manor and Planet of the Vamps. He also, on his own, makes personal video diaries about his trips to the Midwest to try to capture life there in general — and maybe a tornado if he's lucky. George appears to videotape everything in his life, from dinner at friends' houses to his own private obsessions, like the one he has with Bigfoot.
Mike, on the other hand, has taken a very different turn than his brother — and, frankly, different than his own self. After solo directing Sins of the Fleshapoids in 1965, which is one of the most significant underground films ever made, Mike continued to make personal dramas and campy epics like The Secret of Wendell Samson and The Craven Sluck.
However, as Kroot reveals, sometime in the '70s Mike had an unfortunate drug experience while on a spiritual journey across Asia that completely altered him. These days, Mike makes New Age-y film portraits of people, mostly of young men in various states of undress — although he does film women, too — in an effort to capture and somehow possess them. The one example that Kroot includes in the film is of Mike Diana, the underground comic book artist, who acts as a topless janitor cleaning a bathroom.
The majority of It Came From Kuchar does belong to George. Although it goes unmentioned in the film, Kroot is a former student of his and a current friend. However, regardless of that personal relationship, it's just abundantly clear that George is the more gregarious, open one of the brothers, while Mike is much more reticent and shy. In his one-on-one interviews, Mike hardly ever looks at the camera or the interviewer in the eye, preferring to talk with his eyes closed or averted.
Kroot does a great job getting us to know the brothers personally as well as giving a good impression of their impact on the world of film. They were a tremendous influence on cult filmmaker John Waters, who speaks highly of them at length in an interview that's sprinkled throughout the documentary. A surprising interview subject who appears a lot in the film is writer and director Buck Henry, whose days in off-Broadway theater in the '60s brought him into contact with the Kuchars.
It Came From Kuchar is a total celebration of the filmmaking brothers. As such, it's not a critical study, but merely an introduction, which is fine because more people need to be introduced to them. Truly, the most frustrating thing about the documentary isn't something that Kroot has done or could have avoided. The film does such a good job celebrating the Kuchars that, after the documentary is over, one has the immediate impulse to go out and watch their films in full after being tantalized by the copious amount of clips of them that Kroot includes.
Sadly, though, much of their work is unavailable on DVD. Other Cinema put out a great DVD for Sins of the Fleshapoids a few years ago on a disc that includes some of Mike's other films. However, George's work is pretty much completely unavailable, except for a few unauthorized bootlegs you might be able to find online. Hopefully, It Came From Kuchar will spread awareness and create demand for their work to really get out there.
George and Mike have inspired a lot of filmmakers. But, they could stand to inspire even more.
More on this film: Movie Site | Watch this underground movie online
Watch the It Came From Kuchar movie trailer:
It Came From Kuchar photo gallery: