Movie Review: Gravity Was Everywhere Back Then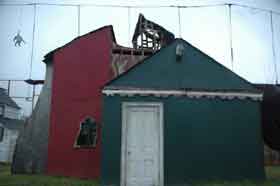 (This review is from a special screening of the film that included live accompaniment by filmmaker Brent Green narrating and on guitar, Brendan Canty of Fugazi on drums and organ; John Swartz on cello, and with donna k. performing live Foley.)
There are tons of bad movies in this world that you can't wait for them to be over. But, Brent Green's debut animated feature film, Gravity Was Everywhere Back Then — which is a magnificent movie — contains a scene of such devastating heartbreak and sadness that I was practically praying that the film would end before I would have to witness it.
The film is many things, not the least of which is a love story between two lonely souls, Leonard (Michael McGinley) and Mary (donna k.). From the outset, Green, in his famously shaky narration, informs us that Mary will eventually get sick — very sick — but the film's story will begin before that, at the moment just before the lovers meet by happenstance. And, although we think we know what will be coming in the film and have adequately prepared ourselves emotionally for it, we eventually discover, like Leonard, that we are not prepared for anything.
Mary gets sick and Leonard builds a crazy patchwork quilt of a house as an elaborate "healing machine" so that his wife will get better. The most significant feature of the house is an enormous tower that reaches way up into the sky so that it will catch a miracle from God and be sent down directly into Mary's body.
This story of Leonard and Mary and their house is a true one. Green had heard about the house, visited it, figured out its odd layout, then rebuilt a facsimile of it in his own yard. Upon first witnessing the house in the film from the outside, it's not unlike first seeing Queen Carlotta's castle in John Waters' Desperate Living. But, where the castle was just a facade and it's interiors shot elsewhere, the replica of Leonard's house is a real structure and most of the film takes place within it or outside around its perimeter.
Mary gets sick and Leonard becomes obsessed with his house. Almost every conversation they have — both before the illness strikes and after — revolves around building it. Leonard had begun the house before he met Mary. Before meeting Leonard, Mary lived with her mother and raised birds in birdhouses. But then Mary's mother died and she needed Leonard to build a really big birdhouse for her because she didn't have anyplace to live anymore. Rather than build that birdhouse, Leonard just has Mary move in with him.
Leonard and Mary live in their house like birds in a birdhouse, except they don't sing. They talk about building stuff and being sick. They are trapped, not by Mary's illness, but by Leonard needing to build his tower up to God. A therapist might assume that although Leonard — and Green — say he's building the house for Mary to make her better, that Leonard is probably really building his house as a way to avoid having to deal with Mary's illness directly. He knows that Mary is going to die and rather than talk to her about that, he can talk to her about varnishing stairs and whatnot.
Although this is a film about Leonard and Mary, the film feels as though it's more autobiographical than any of Green's previous films, several of which also deal with tortured artists. Green never says directly that Leonard is an artist, but he's a builder with an unconventional vision and a house can indeed be a work of art.
That they are both artists is something that Green and Leonard have in common. Also, their artwork — i.e. Leonard's house and Green's animated films — both exist as very concrete objects for a short while and then vanish into memory.
One major difference between the artists that Green emphasizes several times in the film is that Leonard believes in God, but the filmmaker does not. Yet, at a certain point in the film when Green angrily and repeatedly shouts that he does not believe in God, one eventually starts to feel that Green does indeed believe, but is just so ferociously angry that He did not respond to Leonard's call for a miracle. That if God can't help an artist like Leonard, then what hope do all other artists fare.
There are also a few points in the film in which Green may or may not slip into the first person voice of Leonard. These are times when it's unclear who is narrating the film, Green or Leonard. Also, during the live screening/performance I attended, Green's tapping foot on the ground marking time with the music started to sound like Leonard's racing heartbeat during the more emotional moments of the film. The lines between storyteller and subject of story definitely start to blur.
On top of all of these religious, autobiographical and love story concerns with the film, it's can't go without notice that Gravity Was Everywhere Back Then is also a stunning technical achievement for Green.
Instead of Green's typical reliance on puppets to create his stop-motion animation, this time he uses real actors whose stop-and-go actions somewhat resemble the old-fashioned jerkiness of hand-cranked movie cameras and projectors. Although the film takes place in modern times, there's an old-fashioned, timeliness quality to its look, which also transforms the action into a fable or a fairy tale, not just a recreation of actual events.
In addition, Green is also intent on what an animator can do in a life-size stop-animation world. Being a religious man, there are angels surrounding Leonard's house, which appear to be huge wooden constructs that are moved for each frame of film just like a miniature puppet would be. There are also several flying sequences involving the real actors that are very surreal-looking. But the real show-stopper is the live-action, stop-motion car crash that is Leonard and Mary's initial meeting. Conceived and executed, it's a startling sequence.
Gravity Was Everywhere Back Then is a richly complex work that has an old-fashioned, simpler-times feel to it. Yet, love and art are never simple concepts or ideas. And it's a film that ultimately I was glad didn't end when I wish it had.
More on this film: Movie Site | Filmmaker Site
Watch the Gravity Was Everywhere Back Then movie trailer: