Movie Review: Frank & Cindy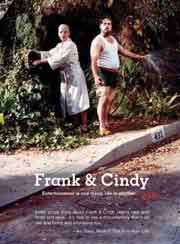 G.J. Echternkamp's Frank & Cindy is one of the most demented home movies you're ever going to see. It's also one of the most touching.
Ok, it's not exactly a "home movie." It's actually an extremely well shot, nicely produced documentary. But it is an intimate and revealing film about Echternkamp's family. Luckily, his family is a little bit nuts, or maybe a lot nuts, or as Echternkamp describes them: "Cinematic gold."
The movie starts off by purporting to be a profile of the odd marriage between his mother and his step-father. Cindy is 20 years older than Frank and the two of them met when he played bass in an '80s pop band. OXO is pretty much what you could call a one hit wonder, although their one hit, "Whirly Girl" just barely managed to crack the Top 40. They did get to appear on American Bandstand and meet Dick Clark, though.
At the time, Frank — who's a real romantic you can tell — swept Cindy off her feet and they quickly got married. She had dreams of going to the Emmy's with him, but the band only ended up releasing one album before breaking up.
Flash forward twenty years or so, Frank's solo career has gone nowhere and now he spends all of his time in a homemade music studio purchased by Cindy who has been supporting him and G.J. with her modest work as a receptionist. Though still married, Frank and Cindy lead mostly separate lives in the same house. She lives upstairs and he lives in his basement studio with an improvised toilet made up of various buckets and bottles.
Although Echternkamp initially intends for his film simply to exploit and make fun of his eccentric step-dad, hence the inclusion about the tip about the improvised toilet. But a funny thing happens on the way to the exploitation.
In the making of the film on-and-off over the course of a year and interviewing Frank and Cindy, Echternkamp begins to forge a deeper bond with them and the movie really ends up being about his relationship to them in a much greater degree than the film being just about the relationship between mother and step-father. The sit-down interviews with Frank and Cindy become progressively probing and grow in much greater detail about what this family has endured for twenty years.
Sadly, this is a family that has been torn apart by much alcohol and drug abuse. Although sober now, Cindy was an alcoholic for G.J.'s formative years and the regret in her voice at not being all there for her son is devastating. Plus, stories about a car accident and G.J. getting taken away from her for periods of time are shocking to hear, but Echtenkamp the director stands removed from all of it. He grills Cindy in a very dispassionate way and reacts with neither grief, anger, nor joy at her revelations, even if some of this stuff he's hearing for the very first time. But this almost seems like a technique to draw more out of his mom, that confrontation or even just reaction would shut her down.
As for Frank, who has struggled with his own addiction demons, on the one hand he is a good source for exploitation. Frank is crazy — but in a good way. He comes across as a loveable — if a little bit maddening — fun loving guy. Cindy may vehemently curse his name throughout the film, but even she is susceptible to entering his studio for a little music-jamming and groovy dancing good times. Frank seems to live his life with a sardonic twinkle in his eye that he's up for some no-good mischief at any time.
If one were to feel sorry for Frank it's for this: He totally experienced fame way too young, even the small drop of it that he had. This is a guy who has always just wanted to make music and have a good time, but signing with Geffen Records when he was 19 he saw his love turn into a nonstop business doing interviews, signing records, lip-synching on TV. Apparently, the experience sucked the joy of making music out of him, leaving an emptiness in him that turned to drug and alcohol abuse. All Cindy and G.J. want to see is Frank experience that joy again.
In the end, Echternkamp does a lot more than to just "exploit" his parents. Indeed, he's produced a sensitive and caring portrait of them, which, given a lot of the turmoil he was put through as a kid, the film totally could have been much darker in tone if he held any resentment towards them. It's a refreshing surprise to see that he hasn't.
Watch the Frank & Cindy movie trailer: