Movie Review: East 3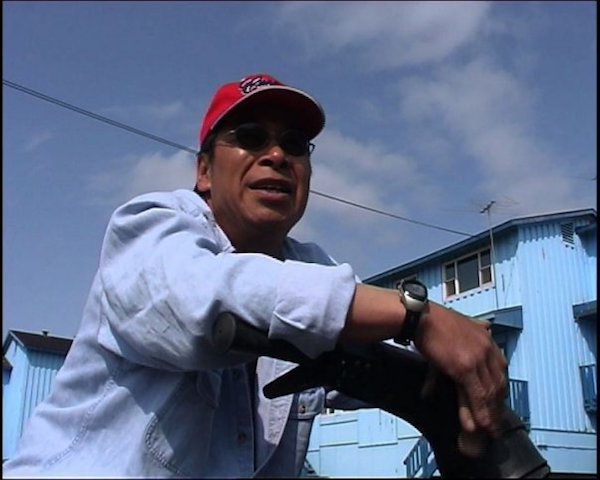 Directed by the enigmatically named Mr. Young, East 3 is a portrait of one of the most hellish looking places on Earth. Although to describe a place as frozen and barren as Inuvik, which is located just 2 degrees above the Arctic Circle, seems like an oxymoron. Yes, people live there. Willingly.
But I don't really want to disparage Inuvik's residents. I do remember settling in every week to watch Northern Exposure and thinking maybe it wouldn't be such a bad idea to run away and leave all this bullshit behind, particularly that episode where Ed turns the town theater into a revival house and shows classics like De Sica's The Bicycle Thief. But then Maggie just orders him to stop with the old crap and program Dumb & Dumber, so I guess you can never really escape the bullshit after all. And besides that was only a TV show and shot just outside of Seattle. If you really want cold, you go to 2 degrees above the Arctic Circle.
Mr. Young's documentary is full of long shots of lonely roads and massive snowdrifts and weather beaten homes that does give the town a slight romantic quality, but of a place that might be nice to visit, not live forever. And one of the factoids in the film is that most residents of Inuvik only go to live there for short periods, a few years max.
The film isn't quite a complete picture of what it would be like to live in Inuvik. We only get to know a few of the residents as Mr. Young's focus seems almost on advocacy issues, such as year-round sustainable greenhouse gardening and ethical treatment for dogs.
Living in such a remote area, it's reasonable that the citizens of a barren, frozen wasteland would be consumed with notions of survival, mainly food gathering. It is strange to see in this environment such a humongous greenhouse and that local folks are so interested in it. Of course, the only reason this unusual structure exists is because it was an abandoned ice rink that was part of a "resident school," i.e. a school where indiginous children where plucked from their families and strictly encouraged to "act white" and feel ashamed about their ancient traditions. Nice.
But the greenhouse is run by this nice young girl named Carrie Young and you kinda wonder why the hell she'd want to move to Inuvik (she's not from there) to work, unless you're someone who's really interested in trying to make a program like this a success, which it seems to be somewhat sort of. We also get to meet there Ruth Wright, an older woman who suffered through a resident school program as a kid and who now, as a teacher, hopes to connect with her own ancestry and does her best to instill in her young students a love of the land through an after-school planting program.
And if you think it's tough for a human to eke out an existence in the great frozen north, just imagine being an abandoned dog either left to roam the town scavanging for scraps or being tied up to a tree and left for dead once your owner got sick of you. Apparently this is a huge problem in Inuvik where the city's official policy is to take stray dogs in and if nobody claims them in (I think) 3 days, they are killed. There is an attempt by an animal activist, Linda Eccles, to change this policy and set up a local SPCA office, but she's finding city officials to not be too helpful.
Back to the whole resident school tragedy we don't get to meet too many indiginous residents of Inuvik who suffered as a result of that policy. There's, as I mentioned above, Ruth; and we get to spend a lengthy bit of time with Norm, who talks in vivid detail of how he hunts for a living. But we also get to spend a lot of time at the Northern Games festival, where the indiginous folk show off their special skills, two of which, if you're a squeamish vegetarian type like me are disturbing to watch, are the caribou-head and muskrat skinning events. However, there's also a lot of music and dancing and traditional games of skill for the kids.
Maybe Inuvik wouldn't be such a bad place to hang. Mr. Young seems to have met quite a bit of interesting people. This ain't no travelogue, but it was certainly made to look like an interesting town. I couldn't hack it, but God bless those who do.
Watch the East 3 movie trailer: