Movie Review: Darling Darling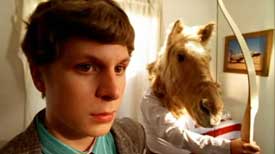 Superbly directed by Matthew Lessner, who gets the absurdist comedy pacing down perfect as it alternates between guffawingly funny and jaw-droppingly bizarre, Darling Darling would be a notable short film in and of itself, except for one striking element that throws it over the top: Michael Cera.
Cera isn't quite a known quantity right now, but he's one of the current "It" boys of Hollywood starring in the Judd Apatow-produced comedy Superbad. As I type this the film is not out yet, but Cera is unavoidable at this point in time as the whirlwind Superbad press tour lands him on just about every mega-movie website and TV show. He and co-star Jonah Hill are being hailed as the next great things in comedy.
Darling Darling was made two years ago while Cera was still on the critically-lauded, but headed-for-cancellation Arrested Development. The story is that Lessner was a fan of the show, wrote Cera an emphatic letter and his script, to which the actor quickly agreed to star. On the one hand it's easy to see what drew the young comedian to the film, the outrageous set-up and action must have played great on the written page as much as it does in the finished short. But, as a brief, low budget affair (the film runs about 13 minutes), the short doesn't give it's lead all that much to do except react incredulously to the bizarre happenings around him. While Cera is very funny in the film, and the end credits state that much of his dialogue was improvised by him, he doesn't dominate the proceedings and knows that it's the story that's the real star here.
The premise is a familiar one and easily relatable to — a dorky kid (Cera) arrives to pick up his date and has to contend with the girl's father, except that here "dad" has a pony head. Lessner's commitment to comedy here is pretty solid. He could have had any crappy paper mache fake pony head created, but instead he forces a poor actor (Steven Barry) to actually wear a taxidermied real pony head in every scene. I don't even want to think of what that thing even smelled or felt like, especially being worn under (I assume) exceptionally bright movie lights. Barry deserved hazard pay for this gig, if he got anything.
The "jokes" of Darling Darling are visual of this sort. But rather than make any mention of the pony head in the dialogue or make the entire short just about the pony head, the oddball action continues in spite of it. Random events pile on top of each other, ranging from an archery session with blood-filled, animal-shaped knickknacks and a powerful guitar solo, which is easily the funniest sequence of the film, particularly Cera's reaction to being "grinded." Just about all of the big set-pieces, shot in a bold deadpan style with long, unedited takes by cinematographer Kevin Burnstein, provide a feast of great images. This isn't a comedy where you can repeat the clever jokes afterward, but the pictures will stick nicely to your bewildered brain.
Darling Darling is now available for purchase on Itunes. I don't know if I can provide a link to it, but if you have Itunes software, you can just search the title and find it. I'll also embed a clip below and if you want more information on the film, please visit the website of Matthew Lessner's production company, Monte Lomax. While Cera is on the brink of real superstardom, I really hope Lessner is equally poised to move up onto bigger and better things. Darling Darling is a real indicator that he is.
Clip from the film: