Movie Review: Big Fan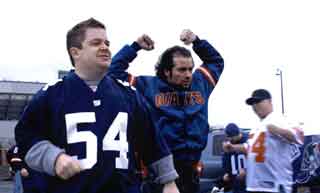 (Screened at the 2009 Los Angeles Film Festival on June 20.)
There are two things in this world I truly don't understand. One is professional sports. The other is why isn't Patton Oswalt a superstar.
Big Fan is a sports movie, but told from the point of view of a crazed football addict, who is especially obsessed with New York Giants quarterback Quantrell Bishop (Johnathan Hamm). Oswalt stars as the titular "big fan, " Paul Aufiero, an unambitious man-child who works all day as a parking garage attendant where, in between making change for drivers, he pens monologues for himself to read on a sports radio call-in show.
Paul also lives at home with his screechy mother (Marcia Jean Kurtz), sleeps underneath a giant poster of Quantrell hanging over his bed and, instead of a girlfriend, keeps a tube of lube handy on his nightstand.
He is, by most agreed upon definitions of the word, a loser.
But he's not a loser who is a victim of a lousy personality or by fate or chance. Paul is a happy loser, supremely confident in all of his decisions that have brought him to this point in his life. He doesn't want a girlfriend or a wife. He doesn't secretly wish to be a pro ball player. He already thinks of himself as a star thanks to his radio call-in rants.
And this is why Patton Oswalt deserves to be a superstar. He makes Paul so blissfully happy in his loser-dom, that you root for him to hang on to the nothing his life is filled with. When his entire family yells at him to grow up and get a life, you wish they'd shut the hell up and leave him alone. As portrayed by Oswalt, Paul empowers the über-nerd in all of us that just wants to forget about real world concerns and relationships and concentrate on what's really important: Our pop culture obsessions.
Plus, while Oswalt is a gifted comedian, Big Fan is more or less a serious film. Yet his somewhat schlubby comedic persona is a tremendous benefit that prevents the film from becoming bogged by it's own dour worldview. Big Fan is the directorial debut of screenwriter Robert D. Siegel who wrote the 2008 Darren Aronofsky hit The Wrestler. Siegel also wrote the script here and he appears to have taken copious notes on directing style and pacing from Aronofsky.
Big Fan exists as a good companion piece to The Wrestler. One film examines the world of sports fandom from the pro viewpoint — e.g. The Wrestler's Randy 'The Ram' Robinson lives for the adoration of his fans — and the other obviously takes the fan point of view. In fact, it wouldn't be too difficult to transfer Paul Aufiero's idol worship from quarterback Quantrell Bishop to The Ram. Also, both films feature uncomfortable confrontations on chilly sidewalks and have the requisite strip club scenes.
It's also hard not to feel that Siegel has also incorporated influences from other "shaggy dog who can't fetch the bone" films. Paul's calling into his beloved sports radio show while his mother yells from the other room to shut up feels borrowed from the horrifically awkward basement tape recording scene from Martin Scorsese's The King of Comedy, which features the same screechy kind of mom. Also, seeing co-star Kevin Corrigan wrapped up in NY Giants jerseys and sweatshirts directly recalls Corrigan wearing similar Buffalo Bills gear in Vincent Gallo's Buffalo '66.
But that's not to say that Big Fan is solely derivative. As we fall deeper into Paul's nerdy little world during the film's first few scenes, the movie then takes a really interesting twist when Paul has the unfortunate experience of actually meeting his idol. While this is the hook on which the film is most easily sold, it's probably a better experience going into the film not knowing what that hook is. The real joy of the film is watching Paul's reaction to that meeting and his subsequent desperate clinging to the ideals he believes in, whether those ideals are understandable or believable by anyone else, including the characters in the film or the audience.
Watch the Big Fan movie trailer: