Movie Review: Battle For Brooklyn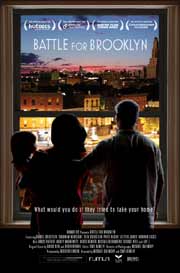 Battle for Brooklyn has everything you want in a great political thriller: An everyman underdog fighting against impossible forces. Elected officials in bed with big money businessmen. Devious and deceptive business and political maneuverings. Great personal tragedy and triumph.
And, of course, since Battle for Brooklyn is a documentary, it's all true.
Filmmaking duo Michael Galinsky and Suki Hawley are no strangers to the political documentary game having previously directed the strange, sad fate of George W. Bush biographer J.H. Hatfield in the film Horns and Halos, which was reviewed on the Underground Film Journal back in 2002.
That's a long time between films, but the directors know how to really get involved with their subjects. Battle for Brooklyn has been seven years in the making, mostly because the battle that they chronicle — over Brooklyn's controversial Atlantic Yards development project — has been an epic one in the real world. Although the intrigue of the project never received national attention, there are tremendous stakes involved on both sides of combatants.
The drama begins in 2003 when multimillion dollar developer Forest City Ratner announces, with the borough of Brooklyn's help, that they will be building a new basketball stadium for the New Jersey Nets surrounded by 16 skyscrapers in the Prospect Heights neighborhood. While much of the new development will be built over an ugly train yard, still nearly 1,000 residents need to be displaced in order for all of the proposed buildings to go up, many of which won't go quietly or nicely.
One of those residents is Daniel Goldstein, a graphic designer who, just before Ratner's announcement, bought a condo in Prospect Heights with his fiancée with hopes of starting a new family there. The proposed building plan transforms Daniel into an activist, fighting with everything he's got to prevent getting kicked out of his new home.
It's not that Daniel is against development and progress. His issues are with the way this particular deal has gone down, with zero community input and no consideration of alternate plans that would prevent the great displacement that will occur.
Daniel is the film's heart and soul for many reasons. At first it appears he is brought into his role as community spokesperson somewhat reluctantly. A lawyer for the activist group Develop Don't Destroy Brooklyn that Daniel is a member of practically has to drag him to the microphone, but he quickly finds his voice and is confident on camera.
That's true for the official interviews Daniel gives to the news media. More importantly, though, he is a very open and completely at ease in front of Hawley and Galinsky's camera. At times it feels as if there is no part of his life that is not open to them and thus to us, the audience. Daniel's activism consumes his being and his personal life goes through major sea changes, from personal loss to a triumph of the heart.
Seven years is a long time to spend on one project, but Hawley and Galinsky being involved since the beginning of the controversy gives their film a truly epic scope. Had they gotten involved later, Battle for Brooklyn may well have been a dry recitation of facts. However, they film they do have puts us right in the middle of action as it's happening. Daniel is not just a talking head. He is a human being whom we become connected with, just how the filmmakers made us feel connected to J.H. Hatfield in Horns and Halos.
And it's not as if Battle for Brooklyn is a single-person tirade or a polemic against politics and business. There are other oppositional voices against the project, such Letitia James, a New York City Council Member who agrees that this eminent domain land grab is wrong.
In support of the Atlantic Yards project is Bruce Bender, an Executive V.P. at Forest City Ratner, who ends up looking more like an "always stay positive" PR flack than a major executive at the company.
The development of the project isn't an easy road and not because the activists present any major roadblocks. Oh, there are numerous opportunities for Daniel and Develop Not Destroy Brooklyn to throw wrenches into the works — and they take full advantage of them — but it's actually quite shocking to see government lay down and roll over when it sees big money a'comin'. Sure, that's not a major revelation. But, to see it in action as it's happening? Devastating.
Battle for Brooklyn opens with a wonderful, very cinematic shot from a helicopter zeroing in on the neighborhood that's about to be erased from memory. But, as the film shows us, these are not just buildings that are going to be torn down. These are homes and businesses filled with people whose identities are tied into where they live and work.
Early on in the film a reporter asks Daniel what's his price. What is the real price that he will hold out for before he will willingly be relocated? Of course, we all expect we have our prices. But what Daniel shows us is that sometimes no amount of money can buy a person's soul.
Watch the Battle for Brooklyn underground movie trailer: