Movie Review: August In The Empire State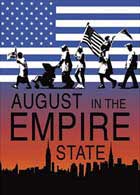 In this day and age when it seems that politics are becoming more and more divisive, it's nice to see a documentary that at least tries to provide a balanced perspective between "conservative" and "liberal."
August In The Empire State, directed by Gabriel Rhodes and Keefe Murren, follows two stories taking place during the 2004 Republican National Convention in NYC. On one side is Cheri Honkala, the activist leader of the Poor People's Economic Human Rights Campaign, who leads a peaceful march through New York City to raise awareness of the plight of the poor in America. On the other side is Paul Rodriguez, not the comedian, but a young Latino businessman looking to break into politics with a nascent run for Congress.
There's also a minor third story concerning an independent journalist, Michelle Goldberg, covering the event, but the real focus here is on Honkala and Rodriguez, who both have a difficult road to travel. Honkala we see is harassed constantly by the police even when her group consists of maybe half a dozen people walking peacefully across New Jersey to get to New York where she is planning a major rally despite not having the proper permits. Meanwhile, Rodriguez is looking for support from a mostly Democratic constituency even though he is a die-hard Republican.
While I tend to suspect that Rhodes and Murren's sympathies lie more towards Honkala's politics since the activist seems to be featured more prominently in the final film than Rodriguez, it's very admirable that the directors kept the film from being a leftist polemic. Both subjects are presented rather matter of factly and are left to sink or swim on the basis of their own words and actions. Neither is presented in a positive or negative light. I have my own political biases, of course, and have my opinions on whether either subject appears sympathetic or not, but I don't want to get into that discussion in this review.
Instead, I want to discuss what I found the most maddening, not about the film, but about both subjects. While Honkala and Rodriguez offer up a lot of ideas regarding their political opinions, neither of them discuss hard and fast political goals. That's a little bit more troubling for Rodriguez who is running for political office, but he doesn't seem to want to tell the people he wants to vote for him what actual types of policies he would push for once he wins a Congressional seat. Rodriguez talks a good deal about the benefits of promoting self-sufficiency and demolishing a culture of Welfare dependence, both of which are good things, but what are the exact policies he would support to make those things happen? It's one thing to tell his people they need to be financially self-sufficient, but if he doesn't give his community the tools for that to happen, then his words are useless.
On the other side, while Honkala is hoping to bring awareness to the plight of the poor in America, at the end of the film I really don't know what she actually wants. If she's holding this march to protest Bush and the Republican party, what specific policies is she objecting against? She's an excellent, passionate, charismatic speaker and leader, so it's easy why should find so many people to follow her in the march, so I just wish I knew more what she was all about.
However, a political convention isn't really about enacting specific policies, it's about gaining attention, a goal which Honkala and Rodriguez at least both accomplish. Honkala's group actually does a lot of work fighting for the poor, which you can read about and perhaps get involved with at the Poor People's Economic Human Rights Campaign website. I also skimmed through Rodriguez's campaign website [link now defunct] where I found he was still kind of vague on his ideas. I couldn't find anything about what he's up to now, which is something I'm kind of curious about.