Movie Review: Altamont Now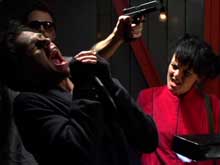 If rock 'n' roll is all about sex and rebellion, then how fitting is it for Joshua von Brown to set his punk rock apocalypse, Altamont Now, in an actual nuclear missile silo? The plot of the film follows faded punk icon Richard Havoc (Daniel Louis Rivas) who has dug himself deep down into an earthen vaginal silo and is ready to burst his man rocket out to start a worldwide nuclear youth revolution. There is perhaps no bigger sex metaphor than that.
There are two truly great things about this extremely fun film. The first is that von Brown found an actual missile silo in which to shoot. In no-budget underground films, one is used to seeing ordinary locations having some cheap decorations strewn about to sub for unfilmable places, e.g. Mike Kuchar thowing up a couple of tawdry curtains in his Brooklyn bedroom to become a futuristic palace in Sins of the Fleshapoids. But being able to film in a real abandoned military installation gives a nice air of gravitas to Altamont Now. Based on the location alone, the film demands the audience to take everything seriously despite it being an outrageous comedy.
The other great thing about this film is the star-making lead performance by Daniel Louis Rivas as Richard Havoc. Again, the film is a comedy, but von Brown has his actors playing the entire thing straight and Havoc is a completely unsympathetic, ego-bloated lunatic. Rivas has a difficult line to walk. His character is supposed to be over-the-top ridiculous, but Rivas holds enough of himself back so that he's not buffoonish. Much of the humor of the film comes from Rivas' straight-laced, deadpan delivery. All the other actors — including Frankie Shaw, Teddy Eck, Matthew Humphreys and Raphael Nash Thompson — all put in superb performances, too, but Rivas has a real forceful charisma that makes him thoroughly compelling to watch.
The script for Altamont Now is adapted from a stage play by David Bucci. In order to loosen the film up from that stage-y feel these kinds of adaptations usually have, von Brown mixes up his media to make it clear we're watching a film. The conceit of the movie is that it's supposed to be a documentary, even though von Brown doesn't completely follow through with that, e.g. there's a character or two outside the silo who are caught on video even though they couldn't possibly be given the constraint of the film's action.
That kind of semi-mockumentary stylistic choice never bothers me and I really liked von Brown loosening up the action by including little media tangents. In one instance, Richard Havoc's main sycophant is Karen Kennedy (Shaw), a former child star on the TV show Why's Daddy Acting Funny?, of which we get several flashbacks to including Kennedy's endlessly repeated catchphrase, i.e. the show's title, that continues to haunt her and drive her mad.
But some of the film's best bits are the impromptu music videos. The movie has an incredible soundtrack with music by M.G. Espar and Maren Rauch. I believe Rivas does his own singing of the songs' ridiculous lyrics. Sample: "I've got your leash/Damn, I've got your collar/I've got your number/It's two for a dollar." Rivas also struts through each video with the same pretentious swagger that's really hilarious.
Although the movie kind of reminded me as a cross between Mike Z's classic hoax film How to Start a Revolution in America and John Waters' Cecil B. Demented, von Brown has a style all his own and has crafted a really nifty and funny social satire in Altamont Now.
Streaming On:


Watch the Altamont Now movie trailer: