Movie Review: All Day Long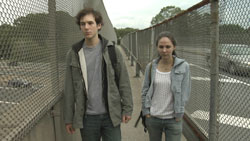 Written and directed by Andrew Semans (co-written with Drew DeNicola), All Day Long contains probably just the right amount of scenes to tell it's story — no more, no less — and comes in at a brisk 22 minutes. Yet, it's the rare type of short film that I've seen in awhile that feels like it would have made a good feature-length production. I found the characters that engaging, the visual style so crisp and clear that I would have followed the action into the next day.
Although the film is a minimalist drama about two teenagers, one girl (Eilis Cahill) and one boy (Henry Glovinsky), playing hooky from school for the day, it unfolds like a horror movie. We immediately know who the players are and what their relationship is and from the first moment they say "I love you" to each other, there is a sense of immediate dread. Maybe that's why horror films are so popular with adolescents to begin with. It's about the time where we suddenly start to be aware that life is going to be filled with minor deaths, beginning with the death of childhood innocence, leading up to the end of our own mortality.
But I don't want to swerve too deep into morbid thoughts, since that's not the road the film goes down. This isn't a day for happy endings, either — both literally and figuratively. We don't get much background on these two characters, although it would be safe to assume it is a case of first love for both of them. "First" in the sense that they don't know what love is yet. Something has drawn these two together, an attraction they are both calling "love," but that's only coming out of their inexperience.
In that regard, All Day Long is very unlike most other films by adults about teenagers, which usually feature hormonal teens waffling between their raw urges and falling into serious relationships. Those urges are only obliquely referenced here. Semans only allows a tinge of sexual frustration into his scenario, even though a movie about two teenagers hanging out by themselves in the woods for an afternoon lends itself to that conflict. But that would be the easy route to take. Rather than go for cheap exploitation, Semans and DeNicola opt for sensitive intelligence in devising their characters. A pushier male character, even for one scene, and we would lose all sympathy for him. As he completely bungles the good thing he's got going, he remains sympathetic in his utter cluelessness as to why he's bungling it.
As the film rumbles towards its inevitable ending and we can only watch, not in horror, but in sadness, it's quietness allows us to reflect upon our own experiences in this arena. All Day Long begs us to walk along with these two characters, to even walk once again in their shoes because we've all worn them at some point or another.